ACCOMMODATION

BOOK EARLY!
In Helsinki you can choose from a diverse range of accommodation. There is something for every level of comfort and budget. The organisers of the FIG 2017 have negotiated attractive room rates which are equal to, if not better than, corporate rates. The special rates only apply for a limited period of time for participants of FIG 2017. Book early to be sure your first choice accommodation.
FIG Working Week 2017 hotel bookings will be managed by local Destination management Company The Travel Experience –
to book a hotel, please visit: https://ilmo.contio.fi/travel-experience/main.aspx?id=115
The map below shows the location of the congress venue and hotel capacity in town:
The conference hotel is Holiday Inn Helsinki Messukeskus, which is located directly next to the conference center.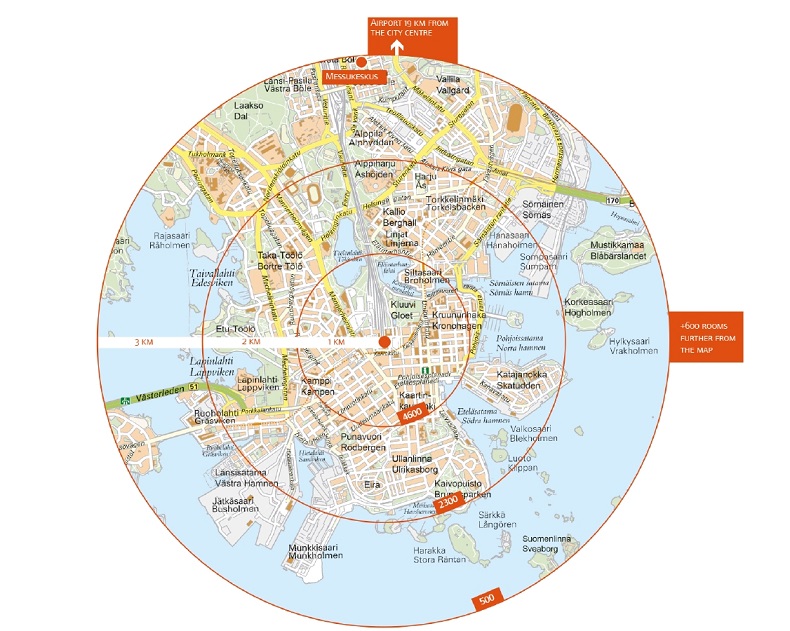 The Helsinki metropolitan area boasts about 80 hotels and almost 12,000 rooms ranging from first-class hotels to hostels for those on tighter budgets. Most of the hotels are within 1.5 kilometres in the city centre with easy access to Messukeskus Helsinki. In addition, there is a Holiday Inn Hotel connected to the venue and Sokos Hotel Pasila only a ten-minute walk away.
Many hotels in Helsinki have been granted the Swan eco-label. The Swan ecolabel's vision is a sustainable society, in which future generations can benefit from the same conditions and opportunities as we ourselves do. The Swan is the official Nordic eco-label, introduced by the Nordic Council of Ministers. The Swan logo demonstrates that a product is a good environmental choice.
FREE PUBLIC TRANSPORT CARD
With our partners City of Helsinki and Helsinki Region Transport we will offer free public transport cards to conference delegates, their partners, exhibitors and sponsors. The card is valid from Sunday (May 28) till Saturday (June 3) in the Helsinki Region i.e. the city of Helsinki, Espoo, Vantaa, Kauniainen. - Get your travel card when arriving to the venue. More information...