President Elect Stig Enemark visits the World Bank and attends the workshop on "Land Policies & Legal Empowerment of the Poor"
31 October – 3 November 2006, World Bank Headquarters, Washington D.C., USA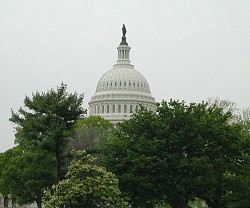 President Elect Stig Enemark visited the World Bank, the Land Thematic Group, 31 October – 1 November 2006, to discuss about the future FIG/WB relations. The objective was to develop a more formal memorandum of understanding between FIG and the World Bank Thematic Group that will spell out the common areas of interest and present the intended future areas of cooperation.
President Elect Stig Enemark met with the representatives of the Land Thematic Group: Klaus Deininger, Malcolm Childress, Core Shaw, Wael Zakout, Ed Cook, and others, including Keith Bell on telephone line from Bangkok.
At the meeting 31 October Stig Enemark gave a presentation on the FIG profile and the intended increased and more formalized cooperation with the World Bank Thematic Group. The presentation was based on ideas for future cooperation as developed between Stig Enemark and Keith Bell over last couple of years. It is now intended to make this a formalized policy as a part of the FIG Council work plan 2007-2010. During the discussions following the presentation it was agreed that a more formalized cooperation should be established for the benefit of both parties. It was also agreed to aim at having a high level joint conference in Oct/Nov 2008 addressing the contributions of both parties to the achieving the Millennium Development Goals. A draft for a MoU between FIG and the World Bank will be developed for adoption at the FIG Working Week in Hong Kong SAR, May 2007.
The workshop on "Land policies & Legal Empowerment of the Poor" was coordinated by Klaus Deininger, the World Bank Land Thematic Group. About 80 key experts were invited from throughout the word.
The workshop commenced with a panel session chaired by Ms. Ana Palacio, Senior Vice-President and Group General Council, WB. The session included seven key presentations from:
N. Singh, Executive, Commission for Legal empowerment of the Poor
J. Kagwanja, .Economic Commission for Africa
A. de Janvry, Co-director, World Development Report 2008
M. Urioste, Internatiocional Land Coalation & Fundacion Tierra, Bolivia
C. Augustinus, Chief, Land Tenure Section, UN-Habitat
V. Evtimov, Project Co-ordinator, Support to HCLP Project
S. Enemark, President Elect, International Federation of Surveyors
The workshop further included nine sessions with about 25 papers. The sessions were structured around issues such as:
Land Administration and Good Governance
The Role of Land in (Post) Conflict
Improving Tenure Security: Challenges and Potential Impact
Functioning and Performance of Land Markets: New Analytical Insights
Approaches to Improving Land Administration
Evaluating Land-Related Interventions: Applying Methodology to Practice
Towards a Set of Global Land Tenure Indicators
Linking Land Policy to Private Sector Development
Lessons Learnt and Next Steps
Papers and presentations are available at the World Bank website on:
www.worldbank.org/landpolicies2006
As stated by Klaus Deininger "… the workshop highlighted the magnitude of the challenges, and also demonstrated that there is a highly diverse, experienced, and committed network of professionals who care about land policy and administration and work actively on it - and that by joining forces and sharing experiences, we can utilize significant synergies."
Further reading:
Stig Enemark´s presentation to the World Bank Land Thematic Group
| | |
| --- | --- |
| Stig Enemark together with Klaus Deininger and Malcolm Childress from the World Bank. | |
| Impressions from Washington DC. | |