United Nations sponsors Permanent Committee on GIS Infrastructure for Asia and the Pacific
5 – 7 October 2011, Melbourne, Australia
and
4th Land Administration Forum for Asia and the Pacific "Beyond Spatial Enablement" and Tenth Anniversary Celebration of the Centre for SDIs and Land Administration, University of Melbourne, 7 October 2011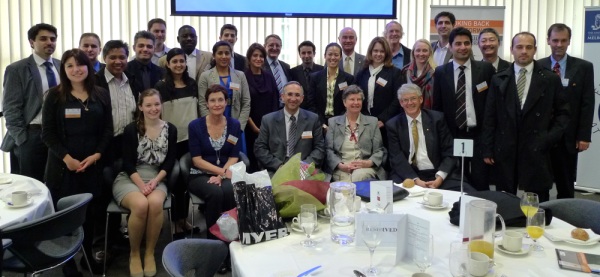 The CSDILA Family: Past and Present. Dr. Daniel Steudler is on the extreme right
The Land Administration Forum and associated workshops was coordinated through the PCGIAP Working Group 3 on "Spatially Enabled Government" and the University of Melbourne's Centre for SDIs and Land Administration (CSDILA). Mr. Greg Scott, Chair of PCGIAP WG3 and Prof. Abbas Rajabifard, Director of CSDILA were the event co-chairs. The focus of the event was developed both by PCGIAP and CSDILA along with the outcomes of the 3rd Land Administration Forum for Asia and the Pacific hosted by the Iranian Government in 2009.
There were three keynote presentations; "Spatial Enablement in Australian Government" by Dr. Chris Pigram, Chief Executive Officer, Geoscience Australia; "Spatial Enablement in Europe – The Role of Cadastre and Land Administration" by Ms Dorine Burmanje, Chair, Executive Board, Dutch Kadaster and Prof. Stig Enemark, Aalborg University and Honorary President, FIG. The keynote session was followed by four technical sessions with the themes "Spatial Enablement in Action"; "The Role of Land Administration in Spatial Enablement" where FIG President CheeHai Teo spoke on the "Role of Surveyors in Support of Spatial Enablement" as well as Dr. Daniel Steudler, Chair of FIG Task Force on Spatially Enabled Society who spoke on the topic "Swiss Cadastre and Spatial Enablement". The third session was titled "The Role of Government and The Private Sector" and this was followed by "Challenges and Opportunities to Achieve Spatial Enablement" that was moderated by FIG President. The 4th PCGIAP Land Administration Forum ended with a Discussion Session on "The Way Forward to Beyond Spatial Enablement".
The event was organized in conjunction with the 10th year anniversary celebrations of the Centre that was held at the end of the three-day event. CSDILA provides a focus for research in Spatial Data Infrastructures (SDIs) and Land Administration by building on research relationships and creating new links through national and international collaboration. The Centre was established in 2001 within the then Department of Geomatics (and now Department of Infrastructure Engineering) at the University of Melbourne, an Academic Member of FIG. CSDILA has been a key supporter of the PCGIAP Working Group 3 on Spatially Enabled Government as well as FIG, particularly the FIG Task Force on Spatially Enabled Society as well as FIG Commission 7. The Centre's first Director, Prof. Ian Williamson was a past Chair of FIG Commission 7 and remains active within the Commission. The current Chair of FIG Task Force on Spatially Enabled Society, Dr. Daniel Steudler, is an alumnus of the Centre and Prof. Stig Enemark, Honorary President of FIG, is a member of its Advisory Board.
During the 10th Anniversary Celebration Lunch on 7th October 2011, it was announced that Abbas Rajabifard, the Director of the Centre was promoted to full Professor. It was indeed a celebration! FIG congratulates Professor Abbas Rajabifard on this deserving promotion. Prof. Abbas is the current President of Global Spatial Data Infrastructure (GSDI) Association, an allied international geospatial information society with whom FIG has a collaborative Memorandum of Understanding.

CheeHai TEO
President
October 2011
11 November 2011