International Federation of Surveyors
Fédération Internationale des Géomètres
Internationale Vereinigung der Vermessungsingenieure

FIG Newsletter – December 2022
---
Dear Colleague,
The best wishes to you for a Happy New Year - and what an exciting new year we are looking into... The first year of the new leadership of FIG with President Diane Dumashie in the lead, new Vice Presidents, new chairs of commissions and networks. A whole range of new possibilities.
When that is said; the turnaround to a new year also means a farewell to the year that has just passed with a sincere thanks to all of you who made this a special year - especially to the Polish local organisers who managed to organise a highly successful and festive congress within one year. This turn of year also means a farewell to the now past term 2019-2022 and its leadership - the President, Vice Presidents and all the commission, network chairs and many others who ensured a high level of activities, efficiency and outcome throughout the past - rather different - four years. A very big THANK YOU that sounds around the globe is not enough...
In this newsletter you will find a collection of news items - my seasons greetings to all in an around FIG with a heartfelt THANKS to all of you who follow FIG; as a tribute to the outgoing FIG President Rudolf Staiger the Article of the Month in December is the video recording of the keynote session on Technology and Visualtion for the Future; we are continuing the "Task Force on FIG and the SDGs series" - this time read about FIG Commission 8 and the SDGs and many other items.
The main event of the year 2023 will be the FIG Working Week in Orlando, Florida - remember the deadline for abstract submission:15 January 2023. You are also encouraged to register now and make advantage of the early-bird fee.
I hope you will enjoy this newsletter and wish you a happy, properous and hopefully peaceful 2023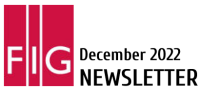 ---
FIG WORKING WEEK 2023 - BE PART OF THE TECHICAL PROGRAMME, SUBMIT YOUR ABSTRACT NOW

It is our great pleasure to invite you to the largest and most prestigious conference of surveying and geospatial professionals in 2023; held in Orlando, Florida USA. We expect around 1,500 - 2,000 surveying and geospatial experts from all over the world.
Local host of the Working Week is our US member - the National Society of Professional Surveyors, NSPS who, together with FIG, are looking forward to welcoming you to an extraordinary week of sessions, social, and sun!
The location within the Disney compound is extraordinary and special and besides the technical programme there will also be technical tours specially designed for Working Week participants.
The overall theme of the Working Week is
Protecting Our World, Conquering New Frontiers
As the world emerges from the grips of a global pandemic and the renewed enthusiasm of in-person conferences, the focus of the geospatial professions is becoming clearer. Our world and the population residing on it needs our assistance in finding better ways of sustaining our environment. This vision for helping with making those changes are reflected in this year's theme for our Working Week and is strategically aligned with the United Nations Sustainable Development Goals (SDG) as adopted by the Member States in 2015.
Call for papers - deadline 15 January 2023
Be part of the technical programme. Do you have a story to tell, research to share, best practice examples or other things you would like to share with your fellow surveyors? Then submit your abstract.
> Read the call for papers
> Submit your abstract
Become a sponsor or exhibitor
| | |
| --- | --- |
| | This FIG Working Week 2023 will be held in the Americas for the first time in over 20 years. This will be your chance to showcase your company or organisation to both a large American and also to a truly international audience. |
| | NSPS Executive Director and member of the Conference Steering Committee, Tim Burch, was present at Intergeo 2022 in Essen Germany, and was interviewed for Intergeo TV. Watch the interview |
Register now
Many exciting experiences are awaiting you during the Working Week and at the destination.

Several pre-event options


Three conference days on 29-31 May with a packed techincal programme


Networking opportunities


Several special technical tours have been organised for attendees only.


The Working Week Dinner: American Evening will be a spectacular performance, the Disney's Hoop-Dee-Doo Musical Revue

Register now to ensure the favourable early-bird rate. After you have registered you will get the option to book you accommodation at the conference hotels at a favourable rate. You will help us by booking these rooms as the conference is dependent on filling up these rooms and the local organisers have done a great job in negotiating reasonable rates for the Disney area. There will be a special student rate.

Read more about the Working Week and what to expect, and register at www.fig.net/fig2023
Follow the Working Week preparations on FIG Social media:
---
NEWS FROM FIG
Seasons Greetings from FIG Office

It's all about networking

Happy New Year
Bonne Année
Ein Gutes Neues Jahr
Prospero año nuevo!
Kul sanna wa'intum b'kheir
새해 복많이 받으세요
新年快乐
Godt nytår
---
FIG General Assembly 2022 - Minutes
| | |
| --- | --- |
| | The FIG General Assembly 2022 took place over three sessions - one online and two onsite in Warsaw Poland. Please find here the minutes of the General Assembly |
---
Will you be our host in 2027? FIG Council announces the bidding material for the FIG Working Week 2027. All member associations are encouraged to consider to submit a bid. Deadline is 12 january 2023. Election of the destination will take place at the Working Week 2023 and General Assembly in Orlando, Florida.
Read more
---
A four-day conference on land was held in Accra Ghana to highlight the implementation of the recently promulgated laws on land management and physical planning for sustainable development. The conference was an important step also for the FIG Working Week 2024 that will be held in Accra, Ghana.
Read more
---



IBRU has awarded its fifth annual Raymond Milefsky Award to Dr. Haim Srebro, after being nominated by FIG. Haim Srebro is among other things main editor of two FIG publications on International Boundary Making.
Read more

---
At the FIG Congress 2022, Dogus Guler, who finished his PhD at the Geomatics Engineering Department of Instanbul Technical University, Türkiye, held a presentation on his research.
Read more
---
COMMISSION NEWS
Newsletters:
---
| | |
| --- | --- |
| | Commission Chair Marije Louwsma gives her Statement on the sustainable development goals in relation to Commission 8 - Spatial Planning and Development |
---
ARTICLE OF THE MONTH
The Article of the Month in December 2022 is a recording of the FIG Congress 2022 Keynote: Technology and Visualtion for the future in which Rudolf Staiger and Robert Olszewski focus on the future technologies of geospatial data visualization and its role for surveyors and the role of GNSS measurements in future. Read more and watch the video
---
JOBS
Check the vacancies and project opportunities at KTH Royal Institute of Technology, Stockholm, Sweden, Civil Society Unite, Department of Global Communications UN, and EPSRC Centre for Doctorial Training in Geospatial Systems.
Read more
---
NEW PUBLICATIONS
Geometer Dreams
| | |
| --- | --- |
| | Peter Byrne has written a book about his forty years as a surveyor. Written as vignettes, the shortest being just one line, together with some longer essays and reflections, Geometer Dreams is about people, their interactions and the circumstances they met. The story settings range from the Pilbara district of Western Australia to the Blue Mountains of New South Wales, from Borneo through Zimbabwe to Brazil and the United Nations and includes also FIG material. Michael D. Breen has written a review of Geometer Dreams. Read the review and find more information about the book here |
---



These new publications examine the state-of-play and future directions for digital transformation in land administration in the United Nations Economic Commission for Europe (UNECE) region and beyond. Fig publication 80 - Digital transformation and land administration - Sustainable practices from the UNECE region and beyond and FAO Knowledge for Investment Brief: Funding Digital Transformation for Land Administration
Read more...
---



This new FIG Publication prepared by FIG Commission 8 aims to provide an overview of relevant topics for land consolidation practice.
Read more
---



New FIG Publication by FIG Commission 3 sheds light on several areas where geospatial data can be particularly useful in supporting the path to sustainability in the 2020s.
Read more
---
UPCOMING EVENTS
16-17 February 2023, Dhulikhel, Kavrepalanchowk, Nepal
International Workshop on Land Use Planning and land administration: integration and decentralisation supported by FIG Commission 7
Attendance by invitation only
28 May - 1 June, Orlando, Florida USA

FIG Working Week 2023
Web site: www.fig.net/fig2023

5-7 July 2023, TU Delft, Netherlands
CAAD Futures 2023 - INTERCONNECTIONS: Co-computing beyond boundaries
Abstract submission - deadline 17 June 2022
Web site: www.caadfutures2023.nl
---
Kind regards,
Ms. Louise Friis-Hansen
Director
International Federation of Surveyors
Fédération Internationale des Géomčtres
Internationale Vereiningung der Vermessungsingenieure
International Federation of Surveyors
Kalvebod Brygge 31-33
DK-1780 Copenhagen V
Tel. + 45 3886 1081
Direct: + 45 9391 0810
louise.friis-hansen@fig.net
www.fig.net
FIG Working Week 2025, Brisbane, Australia
FIG Congress 2026, Cape Town, South Africa
FIG Working Week 2028, Paris, France - CELEBRATING FIG 150 ANNIVERSARY
Subscribe monthly FIG Newsletter
---
FIG on Social Media:





If you have not already joined, join us today...
---
The monthly Newsletter is mailed to all members, commission delegates and all interested partners. FIG offers the Newsletter to all members of member associations and other interested in FIG. If you don't already get your copy you can order it now at: www.fig.net.

FIG Newsletter brings you latest information about FIG and its activities. The information referred here is in full length available on the FIG web site. Thus the Newsletter is produced to inform you what has happened recently and what interesting things are going to take place in the near future. The FIG Newsletter is circulated monthly or bi-monthly by e-mail. The referred articles are in English and written in a way that you are able to extract them to your national newsletters or circulate to your members and networks.

If you do not want to receive the newsletter in the future, please click here to unsubscribe from the mailing list
.
---