International Federation of Surveyors
Fédération Internationale des Géomètres
Internationale Vereinigung der Vermessungsingenieure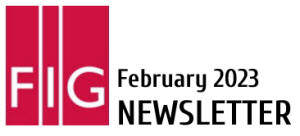 ---
Dear Colleague,
It is not often that FIG Council and commission chairs meet in person, but since we are at the beginning of a new term, all met in Copenhagen to get acquainted with each other and the tasks, elaborate on their 4-year work plans and prepare for the upcoming FIG Working Week 2023 in Orlando Florida. Learn more about the Working Week and its preparations. Soon the Global Surveyors day is coming up - 21 March - do you have plans in your country? Let us know. In this newsletter we encourage you to fill in a survey conducted by our sister organisation IAG.
Please read on...
---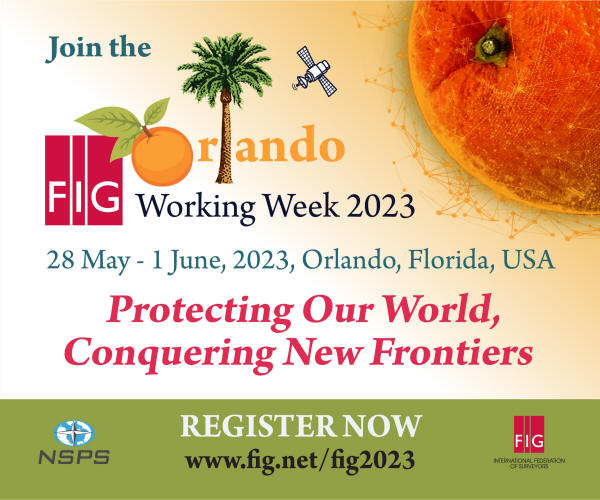 FIG and the local organisers from NSPS are looking forward to welcoming you to the FIG Working Week 2023. FIG, NSPS and local representatives from Florida are now working on bringing together an exciting programme for you.
Unique venue
The conference centre is located in the Disney area. Having both accommodation and conference venue under the same roof is a great benefit to the conference participants.
The conference centre is located between the two hotels Signia by Hilton Orlando Bonnet Creek and Waldorf Astoria Orlando. This means that you do not need any kind of transportation to the venue and it is easy to get around the compound.
Please ensure your hotel room - there are not that many, and our local organisers have negotiated a really good fee for the stay of our participants. Please note that the rate includes the Disney Resort Fee that it otherwise always added to all rooms and represents a ee of USD 45 per day.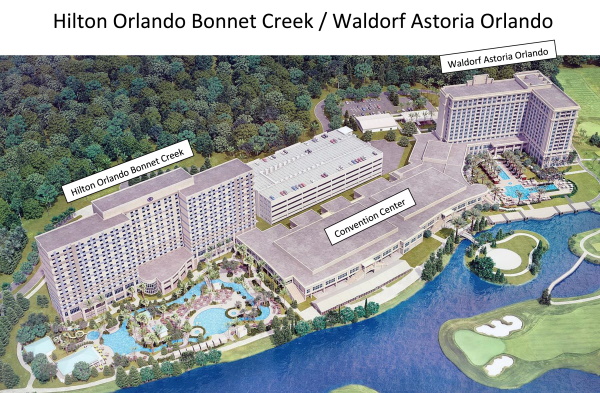 Apart from the conference programme there is plenty to see and do in and around Orlando.
VisitOrlando has prepared a web site for the FIG Working Week participants. Here you can see special offers that you can use while being in Orlando:
https://www.orlandomeeting.com/delegate/fig-working-week-2023/
The overall theme of the Working Week is
Protecting Our World, Conquering New Frontiers
As the world emerges from the grips of a global pandemic and the renewed enthusiasm of in-person conferences, the focus of the geospatial professions is becoming clearer. Our world and the population residing on it needs our assistance in finding better ways of sustaining our environment. This vision for helping with making those changes are reflected in this year's theme for our Working Week and is strategically aligned with the United Nations Sustainable Development Goals (SDG) as adopted by the Member States in 2015.
Become a sponsor or exhibitor
| | |
| --- | --- |
| | This FIG Working Week 2023 will be held in the Americas for the first time in over 20 years. This will be your chance to showcase your company or organisation to both a large American and also to a truly international audience. |
Register now
Many exciting experiences are awaiting you during the Working Week and at the destination:
Several pre-event options
Three conference days on 29-31 May with a packed techincal programme
Networking opportunities
Special plenary sessions setting the scene of each day
Spectacular Working Week Dinner
Do you play golf? Or what about joining the Cornhole game

Read more about the Working Week and what to expect, and register at www.fig.net/fig2023
Follow the Working Week preparations on FIG Social media:
---
NEWS FROM FIG

Creative and productive meetings in Copenhagen

FIG Council as well as all commission chairs met in a cold but sunny Copenhagen in February for the planning of this term of office.
Read more
---
FIG President Diane Dumashie paid a visit to Orlando, Florida to meet with the local organisers from NSPS. An exciting Working Week programme is taking shape and is awaiting all attendees.
Read more
---
Global Surveyors' Day is a way to globally recognize the ground-breakers, pioneers, individuals and the industry that has shaped our history and continues to be the foundation of our communities.
Read more
---
COMMISSION NEWS
Newsletters:
---
| | |
| --- | --- |
| | The services of the International Association of Geodesy (IAG) provide very important and valuable geodetic data, information, and data products that are increasingly relevant for Earth System research. GGOS is now conducting a survey to inquire the opinions of geodetic data users on data availability and visibility and to identify requirements for a comprehensive and user-friendly GGOS-Portal. Help our sister organisation IAG and fill in the survey Read more |
---
FIG FOUNDATION GRANTS
Current open grants:
Please check the requirements carefully before applying for a grant.
---
ARTICLE OF THE MONTH - February 2023
The Article of the Month in February 2023 is is both a recording of the FIG Congress 2022 Keynote: Land Governance in support of the 2030 Global Agenda by Stig Enemark and Paula Dijkstra and an article by Stig Enemark Responsible Land Governance and Secure Land Rights in Support of the 2030 Global Agenda. This session unfolds the concept of responsible land governance and the importance of including all land, people and land rights at a countrywide scale. Further, the session aligned the concepts with the 2030 Agenda for Sustainable Development and how FIG supports the SDGs. The agenda provides us a roadmap towards a more sustainable world. Providing leadership as FIG, as professional and as a citizen on the SDGs will be of great added value. This session sets the scene how you can actively contribute to volunteering for the future for our profession, society and our planet at the same time. Read more and watch the video
---
A must-see collection item. Reserve your copy of this special edition now.
Read more
---
UPCOMING EVENTS
Check the events page
19-21 April, Lviv - Yavoriv - Brukhovychi, Ukraine
XXVI International Scientific and Technical Conference GEOFORUM-2023
More information
28 May - 1 June, Orlando, Florida USA

FIG Working Week 2023
Web site: www.fig.net/fig2023

5-7 July 2023, TU Delft, Netherlands
CAAD Futures 2023 - INTERCONNECTIONS: Co-computing beyond boundaries
Abstract submission - deadline 17 June 2022
Web site: www.caadfutures2023.nl
---
Kind regards,
Ms. Louise Friis-Hansen
Director
International Federation of Surveyors
Fédération Internationale des Géomčtres
Internationale Vereiningung der Vermessungsingenieure
International Federation of Surveyors
Kalvebod Brygge 31-33
DK-1780 Copenhagen V
Tel. + 45 3886 1081
Direct: + 45 9391 0810
louise.friis-hansen@fig.net
www.fig.net
FIG Working Week 2025, Brisbane, Australia
FIG Congress 2026, Cape Town, South Africa
FIG Working Week 2028, Paris, France - CELEBRATING FIG 150 ANNIVERSARY
Subscribe monthly FIG Newsletter
---
FIG on Social Media:





If you have not already joined, join us today...
---
The monthly Newsletter is mailed to all members, commission delegates and all interested partners. FIG offers the Newsletter to all members of member associations and other interested in FIG. If you don't already get your copy you can order it now at: www.fig.net.

FIG Newsletter brings you latest information about FIG and its activities. The information referred here is in full length available on the FIG web site. Thus the Newsletter is produced to inform you what has happened recently and what interesting things are going to take place in the near future. The FIG Newsletter is circulated monthly or bi-monthly by e-mail. The referred articles are in English and written in a way that you are able to extract them to your national newsletters or circulate to your members and networks.

If you do not want to receive the newsletter in the future, please click here to unsubscribe from the mailing list
.
---