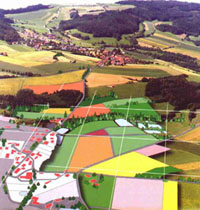 Education
The existing wide range of education that is offered for students of geodesy /surveying, geography, for building interns and students of agriculture is currently being expanded in response to the demand for more current relevant topics by the Chair of Land Readjustment and Land Development.
Corresponding to the changing job market, the accent is increasingly put on the imparting of knowledge and ability to practise independent planning and expert professionalism. Therefore, strong connection between theory and practice is indispensable. This is also true for a lot of the seminar papers and diploma theses that are offered by the chair.
Emerging new points of emphasis within the subjects will be urban land readjustment, assessment of land value and regional land development. With these new points of emphasis, international developments shall be increasingly integrated.
Within the scope of education, especially during advanced studies, following skills are demanded and encouraged:
team work competence
methodological competence
social competence
language competence
media competence
As far as possible, the chair wants to meet international responsibilities in rural development for transfer of know-how and technology into reform states and extra-European countries.
Through the approaching presidency of Univ.-Prof.Dr.-Ing. Holger Magel of the International Federation of Surveyors (FIG), a close and fruitful connection with the FIG will develop, throughout which current international points of view can become established in education and research.
In education, there's a strong desire for contact with the practical. Each term, guest lectures are offered by reputable representatives from fields like regional development, rural and urban land readjustment, assessment of land value, etc.
Also through the close professional cooperation with the Bayerische Akademie Ländlicher Raum (Bavarian Academy for Rural Areas), the education that is offered can be enriched by additional current topics.