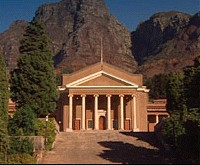 Department of Geomatics
Geomatics at UCT
The Division offers a four year BSc Honours GIS degree aimed at graduates from the natural, geographical or computer sciences who have taken first year mathematics at university or approved mathematics/statistics combination,

as well as a four year BSc (Geomatics) degree awarded by the Faculty of Engineering and the Built Environment. There are currently three streams on offer within the BSc Geomatics degree programme, with some flexibility within these streams. The streams are: BSc(Geomatics) in Geoinformatics, with a third year major in one of the following: Computer Science, Environmental and Geographic Science or Geology

BSc(Geomatics) in Surveying

BSc(Geomatics) in Planning / Masters in City and Regional Planning (combined programme )

The Division also offers a one-year postgraduate honours-level programme in GIS for those who have a first degree outside of Geomatics: BSc Hon GIS Masters and Dcotoral degrees are obtained through research under the supervision of academic faculty.