e-CONFERENCE BAG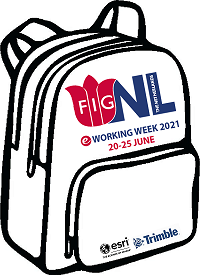 It was our pleasure to welcome you to the FIG e-Working Week 2021. We look back at a succesfull event, thanks to your enthusiasm!
We hope that you enjoyed it just as much we did and feel inspired and (re)connected. We hope you had the opportunity to catch up with friends and colleagues and made new contacts.
On behalf of FIG, LOC and our sponsors we would like to offer you a digital conference bag.
This event bag is full with videos, links, vouchers, leaflets and recordings.
Enjoy and we hope to see you soon!
---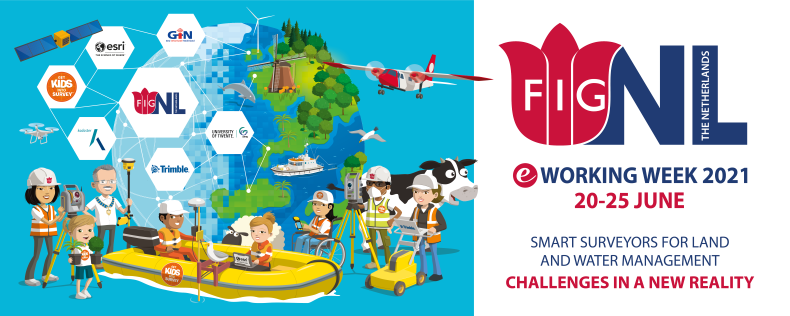 ---
Get Kids Into Survey
Get Kids Into Survey: encourage kids into surveying.

Bringing young people into the exciting world of survey through pioneering content and engaging experiences.

FIG President, Rudolf Staiger (left) and the surveyor (right) are hiding something.

Click, print, colour and share.
---
Thank you to our sponsors!
Esri

On behalf of Esri we are happy to share with you the ArcGIS and Land Administration white paper.

Scan the QR code - please click on the banner.
---
Trimble

---
Kadaster

Kadaster International publises each month their magazine Abroad.

Last months edition focused on Kadaster and their contribution for the FIG e-Working Week 2021.

Interested in Abroad une 2021, the newsletter of Kadaster International? Click on the photo on the right.
---
Leica Geosystems
| | |
| --- | --- |
| A thank you for attending the e-Working Week 2021 from Leica Geosystems. | |
---
RIPRO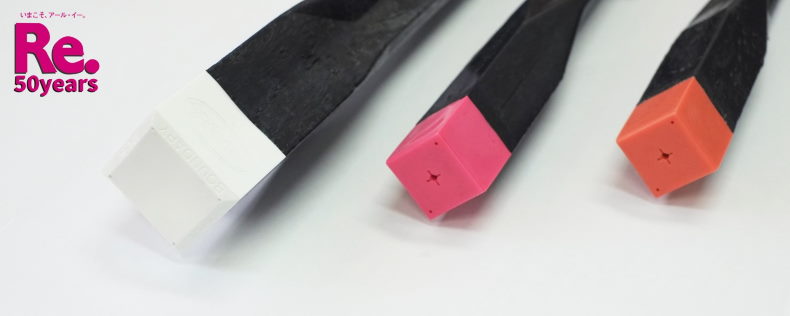 | | | | |
| --- | --- | --- | --- |
| | | | - manufacturer of boundary piles from recycled plastic - wants to say thank you! |
---
DVW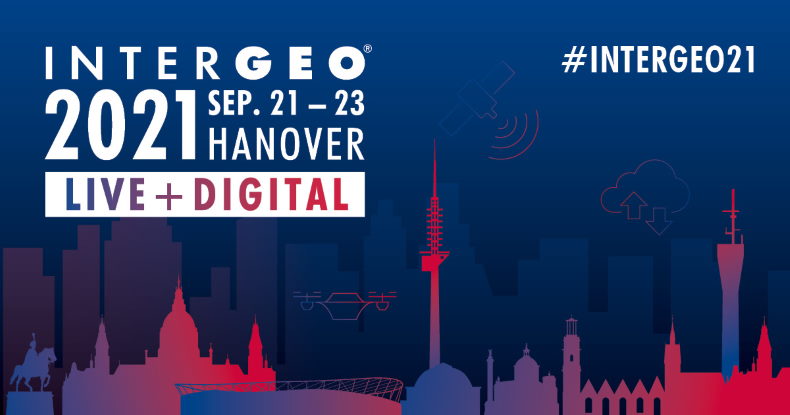 INTERGEO 2021 goes HYBRID - DVW invites you to the event for future-oriented geo applications from September 21 to 23, 2021.
Be part of it - a top-class conference program awaits you, which will address the current and future-oriented topics. For further information please visit www.intergeo.de/en/conference DVW offers FIG e-Working Week members reduced participation conditions - Click on the INTERGEO banner for the voucher.
| | | | | |
| --- | --- | --- | --- | --- |
| See you in September - LIVE in Hanover and DIGITAL at the same time! | | | | |
---
GIM International

---
GeoConnexion
---

Keynote Sessions
Are you ready to relive, rewatch and re-experience the first FIG digital Working Week? We want to share with you the special links to the sessions. Be the first to rewatch the Keynote Sessions.
Opening Ceremony
---

---
FIG e-Working Week 2021 Keynote: The Impact of COVID-19 on the Profession
Benjamin Davis, Director, Inclusive Rural Transformation and Gender Equality Division, FAO
Steven Ramage, Group on Earth Observations (GEO)
Léa Bodossian, Secretary General and Executive Director of EuroGeographics
Chair: Kate Fairlie, Land Administration Specialist, Former Chair of FIG Young Surveyors Network
---
FIG e-Working Week 2021 Keynote: The Challenges for Smart Surveyors in a New Reality
Jack Dangermond, Founder and President Esri - Environmental Systems Research Institute
Rudolf Staiger, FIG President, Professor at the University of Applied Sciences Bochum, Dept. of Surveying Engineering and Geoinformatics
---
FIG e-Working Week 2021 Keynote: A Decade of Fit-for-Purpose Land-Administration: Key lessons and future directions
Emmanuel Nkurunziza, Director General of the Regional Centre for Mapping of Resources for Development (RCMRD)
Stig Enemark, Honorary FIG President, Senior Consultant and Professor Emeritus of Land Manaement, Aalborg University Denmark.
Amy Coughenour, CEO of Cadasta Foundation
Chair: Jaap Zevenbergen, Head of Department of the Urban and Regional Planning and Geoinformation Management University of Twente ITC Faculty
---
FIG e-Working Week 2021 Keynote: Integrated geospatial information for transformational change
Greg Scott, Inter-Regional Advisor, UN-GGIM Environment Statistics and Geospatial Information Branch United Nations Statistics Division Department of Economic and Social Affairs
Rosamond Carter Bing, Chief Executive Officer for the Ministry of Lands and Natural Resources for the Government of the Kingdom of Tonga
Chair: Anders Sandin, Director, Lantmäteriet The Swedish mapping cadastral and land registration authority
---
FIG e-Working Week 2021 Keynote: Making the land and property sector sustainable and resilient: Ensuring Diversity and Inclusion
Narelle Underwood, Surveyor-General of NSW, Australia
Chitra Weddikkara, Dean, Colombo School of Construction Technology Colombo Srilanka
Paul Olomolaiye, Pro Vice-Chancellor - Equalities and Civic Engagement at Univercity of the West of England
Victoria Stanley, Senior Land Administration Specialist at World Bank
Chair: Diane A Dumashie, FIG Vice President; Director Dumashie Ltd; Trustee Lionheart Benevolent Fund.
---
FIG e-Working Week 2021 Keynote: Digital Twins | How can DT support legal certainty?
Frank Tierollf, Chair Executive Board Kadaster
Sisi Zlatanova, Professor, Head of GRID, Faculty of Built Enviroment, UNSW Sydney
Noud Hooyman, Chief Geo-information Officer Directorate for Spatial Planning Ministry of the Interior and Kingdom Relations Netherlands
Henk Scholten, Director Research and Innovations Geodan Netherlands
Jan Bruijn, Condultant at Geonovum
---
FIG e-Working Week 2021 Keynote: Success - a Continuous Journey
Katriona Lord-Levins, Chief Success Officer, SVP at Bentley
Paula Dijkstra, Director a.i. of Kadaster International - co-conference director e-Working Week 2020
Louise Friis-Hansen, FIG Director
---
Closing Ceremony
---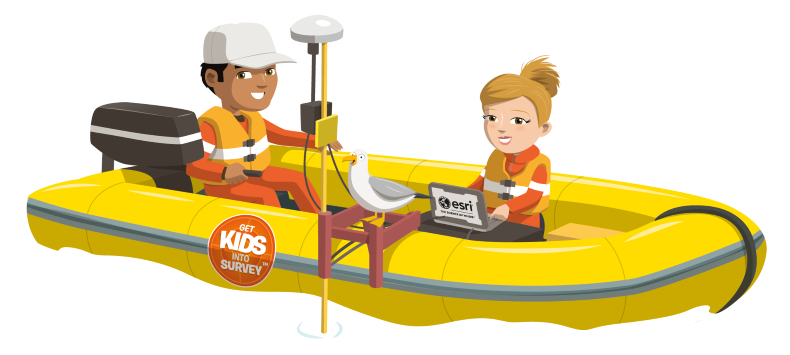 Technical Sessions
With over 70 technical sessions, participants from over 100 countries and an average online time of 18 hours and 44 minutes you where part of an online FIG transition.
Did you miss any sessions? We have stored the recordings especially for you. With this link you get access to the back-end playlist of FIG's YouTube.
MONDAY - 21 JUNE 2021

FIG Member Association and Regional Bodies Forum

No recording

Practical Digital Twin cases in the Netherlands

Valuation of unregistered land – a practice manual

---

Regional Academic Networks: Lessons from COVID-19 for SDG Goal 4 (education)
Commission: 2

Geospatial impact of COVID-19
Commission: 3




YSN Mentoring Session
Commission: FIG Young Surveyors Network

---

ESRI: Why GIS is the Foundation of your Cadastre

LAND-at-scale programme


Unleash the power of location, with HERE

---

New GNSS technologies for faster and more accurate surveying



Netherlands and Land Administration: Best Practice and Vision for the Future



The Role of the Geospatial Information in Responding to Crises and Accelerating the Progress on Achieving the SDGs

---

Reimagining the future of the Surveying Profession Post 2020


Spatial Planning, Land Use, and Land and Water Management
Commission: 8

Integrated Geospatial Information Management
Commission: 3

---

Responsible PPPs in Land Administration
Commission: 7



Round Table – Introduction to the Tool Kit for the Valuation of Unregistered Land
Commission: 9

Vertical Datums Defined by GNSS and a Geoid
Commission: 5



---

TUESDAY - 22 JUNE

Smart Surveying in the Netherlands: Totally 3D


Geospatial Analytics Use Cases
Commission: 3



Sustainability, Land Tenure and Land Administration
Commission: 7

---

Water Governance – Facing the Effects of Climate Change
Commission: 8

Book Corner Session- Presenting the book: Real Estate Registration and Cadastre. Practical Lessons and Experiences

UN-GGIM Framework for Effective Land Administration (FELA)

---

Innovation in Professional Education during COVID-19 - Session 1
Commission: 2

Emerging Technologies for Geospatial Analysis
Commission: 3

Hydrography in Support of Land and Water Management
Commission: 4

---

GNSS Augmentation Services
Commission: 5


Quality Management in Cadastral Surveying
Commission: 7

FIG Director Generals Forum - The importance of IT governance in your organisation

No recordings

---

FRENCH SPEAKING SESSION 1

Fit for Purpose (FFP) for Land and Water Management –The Relationship of the Water and Land Tenure Nexus

Managing the Land/Water Interface: WGS84 vs. the ITRS
Commission: 4 and 5

---

Discussion Session on Ethics
Commission: 1

FRENCH SPEAKING SESSION 2

Launch of "Urban-Rural Land Linkages: Concept and Framework for Action

---

Coordination of Global to Regional Geodetic Efforts through the United Nations
Commission: 2 and 5

Trimble Business Center (TBC) at the epicenter of all of your surveying operations


ESRI: Modernizing Your Mapping




---

Why everybody should learn GIS?

Turnkey solution for the establishment of regional and national GNSS RTK networks

Experiences with SDG's, HAS University of Applied Sciences

---

Integrated Geospatial Information for Transformational Change at the Country-Level

Cadastral Maintenance and Modernisation
Commission: 7

Urban Challenges – strategies for sustainable and inclusive cities
Commission: 8 and 9

WEDNESDAY - 23 JUNE

ESRI: Getting Started with Valuation with GIS

Book Corner: Introduce FIG 76 Publication - International Boundaries on Unstable Ground

Smart (AI) Solutions from the Netherlands for Global Challenges


---

Innovation in Professional Education during COVID-19 - Session 2
Commission: 2

Participatory Geospatial Approaches
Commission: 3


Achieving Sustainable Development Goals by Cadastral Solutions
Commission: 7

---

Land Consolidation: from Plan to Implementation
Commission: 8

Digital Twinning - The Past and The Future

Geospatial solutions to support a rapidly changing world

---

Fit-For-Purpose Data Collection with Trimble Field Solutions


The Dutch Spatial Data Landscape - System of Key Registers and Environmental Planning Act

The Role of Land Banking in Support of Land Consolidation


---

Historical Surveying – Dutch roots to the profession


Cost Effective, Multi-Sensor Positioning and Data Acquisition Technique
Commission: 5

De-carbonising Construction for Surveyors
Commission: 10

---

100 years of innovation in Heerbrugg

Artificial Intelligence (AI) & (Sub)National Mapping

Oceans and Seas = SDG14 and a Smart Future

---

Responsible Land Administration Teaching Essentials (ReLATE) Structured Knowledge Base
Commission: 2

Geospatial technologies in structural monitoring
Commission: 3 & 6


GIS for Monitoring and Evaluation of Sustainable Land Use
Commission: 3 and 8

---

Valuation Supporting Better and Transparent Decision Making
Commission: 9

THURSDAY - 24 JUNE - WORKSHOP DAY

The ArcGIS Parcel Fabric – Modern solution for Land Administration

50 High-Resolution Laser Scans/Hour – Workflow Description of Extensive TLS Projects with a RIEGL VZ-400i Laser Scanner

9th FIG Workshop on the Land Administration Domain Model / 3D Land Administration

Decade of FFPLA: Key Lessons and Future Directions

Surveying and BIM Classroom

Augmented Reality in the Construction World

Generic Tool for Land Consolidation

Blended Learning: lessons from our responses to COVID-19

Workshop on e-Volunteering to Address Environmental Challenges - A Real-life Example with a Real-time Project
General Assembly
| | |
| --- | --- |
| FIG General Assembly: Session 1 - agenda items | FIG General Assembly: Session 2 - Election - presentation of candidates |
| FIG General Assembly: Session 3 - FIG Governance | FIG General Assembly: Session 4 - The work of FIG |