Vice President Iain Greenway attends meeting of the joint board for the Geospatial Information Societies
International Cartographic Conference, Paris, July 2011
Vice President Greenway attended the ICC in Paris, and represented the FIG President at the meeting of the Joint Board.
Joint Board
The Joint Board consists of representatives of (in addition to FIG):
International Map Trade Association
International Cartographic Association
International Steering Committee for Global Map
International Society of Photogrammetry and Remote Sensing
International Geographic Union
International Hydrographic Organisation
Global Spatial Data Infrastructure Association
Institute of Electrical and Electronic Engineers – Geoscience and Remote Sensing Society
The International Association for Geodesy was unable to attend the meeting.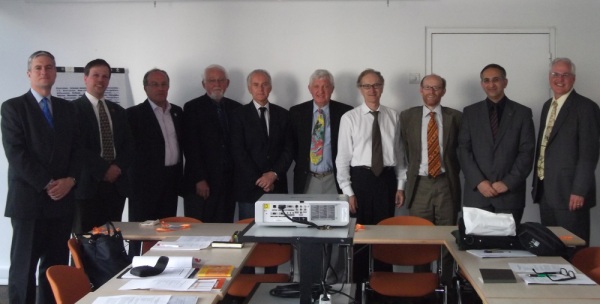 The Joint Board for the Geospatial Information Societies
The Joint Board is becoming more important with United Nations initiatives in geospatial information management – the UN wants to deal with the profession through one organisation, not multiple ones.
The business of the Board included preparing for the UN Global Geospatial Information Management event in Korea in September; it was agreed that the Joint Board would present one paper, to which all member organisations will contribute.
The Board also agreed to continue to try to coordinate the work of member organisations in building capacity in Africa, and in raising the profile of the power of geospatial information in disaster management. Board members also shared news of activities and upcoming events.
International Cartographic Conference
The ICC was a large event – there were around 1,300 attendees from 85 countries. 500 papers were presented and there were 200 poster papers, alongside a technical exhibition, an international map exhibition and a children's map exhibition. Key topic areas for the papers included semiotics and cognition; maps and database production; and maps and GIS for studying society. The next ICC will be held in Dresden in 2013.
Iain Greenway
5 July 2011
10 August 2011