News in 2020

GhIS help fight against Covid-19 pandemic in Ghana
7 April 2020, Accra, Ghana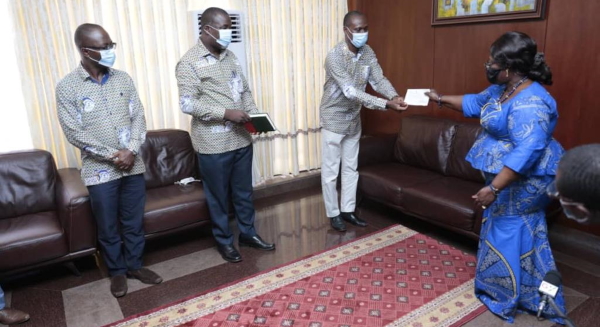 Ghana Institution of Surveyors Presentation at Jubilee House
Surv. President Surv. Dr. John K. Amaglo FGhIS, in the company of the Honorary Treasurer Surv. Cornelius Adu-Mpiani FGhIS, and Honorary Secretary Surv. Harry Nartey Anim MGhIS made a presentation on behalf of the entire membership of Ghana Institution of Surveyors (GhIS) to the Chief of Staff Honourable Frema Opare at the Jubilee House, Accra.
Surv President presented a cheque of ¢50,000.00 towards the Covid-19 National Trust Fund initiated by the President of the Republic of Ghana, His Excellency the President, Nana Addo Dankwa Akufo-Addo. Surv. President said it is the fervent hope of the entire membership that the donation will go a long way to assist the fight against Covid-19 pandemic in the country.
He also said Ghana Institution of Surveyors in collaboration with Professionals in the Built Environment to produce a technical approach document to help curb a horizontal spread of the Coronavirus pandemic.
He further informed the Chief of Staff that a prototype presentation of Web-based Contact Tracing App will be made to the Ghana Health Technical Team on the 8th of April 2020. He finally expressed our profound gratitude to all Frontline Workers for their efforts and sacrifices to save lives affected by this Coronavirus pandemic.
Software to detect and trace persons tested positive
The Ghana Institution of Surveyors has developed a software that can detect and trace all persons who have
tested positive for the novel Coronavirus. The Institute says the software will be installed on all phones including
non-smartphones.
Speaking at a ceremony to present a GHS50,000 donation to the COVID-19 Fund, President of the Institution,
Dr. John Amaglo, said the software if adopted by government will help in the fight against Coronavirus.
"This is the domain of surveyors. We have come up with an application that will be used for contact tracing and it has three functions. It will trace the affected people in real-time. It will be used for monitoring and it will be
used for evaluation. We have booked an appointment with the technical team so that tomorrow [Wednesday], we will do a presentation and if it is adopted we should be ahead of the virus."

Surv Harry Nartey Anim MGhIS
HONORARY SECRETARY
April 2020