News in 2022

General Assembly election for President and Vice Presidents
March 2022 - updated June 2022
FIG Congress 2022 marks the end of term the current leadership 2019-2022, and a new term with two new Vice Presidents and a new President.
FIG Council announced the call for nominations in October 2021 with deadline of 1 March 2022 encouraging all member associations to consider nomination from their association for one of the posts.
By the deadline FIG Council had received three nominations for the position for President and four nominations for the two position for Vice President. At the Council meeting in March FIG Council decided to bring forward the nominations to the General Assembly. FIG Council also decided to inform about the nominated candidates already now and not wait until the General Assembly agenda is being published.
Each candidate has prepared a promotion email that was sent to all member associations in June by FIG Office.
Please see here the nomination forms, supporting letter and read also the promotion email from each candidate.
Candidates for President for the term 2023-2026
Candidates for two Vice Presidents 2023-2026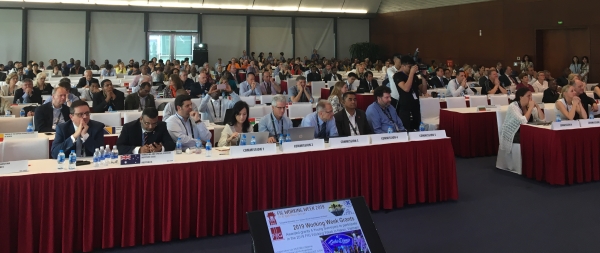 The General Assembly at FIG Working Week 2019 in Hanoi, Vietnam was the last time FIG delegates actually met in person
Other council decisions
FIG Foundation
At the council meeting, FIG Council also appointed two new Directors for the FIG Foundation:
Bryn Fosburgh, USA
Jennifer Whittal, South Africa
Read more about the appointement of two new Directors in FIG Foundation
Networks
FIG Council appoints network chairs, apart from the Young Surveyors Network who present their preferred candidate to FIG Council for final approval.
Jennifer Whittal, South Africa is currently chair of the Africa Regional Network, ARN. Jennifer had expressed her interest to continue, however with her academic profile FIG Foundation and FIG Council would appreciate to see her in one of the positions as Director of the FIG Foundation. Jennifer has kindly accepted to become one of the FIG Foundation Directors, although she also expresses her sorrow to leave ARN.
Read more about the appointment of a new Chair of Africa Regional Network
The current chair of FIG Asia Pacific Network AP-CDN Rob Sarib is willing to continue in this position which was approved by FIG Council.
FIG Standards Network Chair is David Martin. He is also willing to continue for one more term which was also approved by FIG Council.
FIG General Assembly 2022
FIG Council is looking forward to the General Assembly 2022 which will take place in Warsaw, Poland at the FIG Congress 2022. Currently, FIG Council is considering the best format for the General Assembly. Parts of the General Assembly 2021 that took place online worked quite well, and it is council's intention to use this unique experience and the positive elements from the online version to future General Assemblies. There are also some advantages of being on-site and FIG Council is looking forward to the parts of the General Assembly 2022 that wil take place in Warsaw, Poland. Currently the afternoon of 11 September and the morning of 15 September 2022 are reserved for General Assembly sessions. There might also be an online session covering part of the agenda.
The online voting that was introduced in 2021 was a big success. Many member associations were registered and voted, and it seemed that noone had problems using the system that was chosen. This means that in 2022 we will continue using the same online system and that all votings will be online, so that all members will be given the option to cast their votes.
When the final concept for the General Assembly is ready all member associations will be informed.
Louise Friis-Hansen
30 March 2022