News in 2022

FIG at United Nations World Geospatial Information Congress 2022
Hyderabad, India 10-14 October 2022
FIG President Rudolf Staiger, together with chair of FIG Commission 3 Hartmut Müller, attended the 2nd UNWGIC-Congress in Hyderabad (India) from 10-14 October 2022. The United Nations World Geospatial Information Congress (UNWGIC) was organised in 2018 for the first time in Deqing, Zhejiang Province, China. Convened by the United Nations Committee of Experts on Global Geospatial Information Management (UN-GGIM), UNWGIC 2022 was organized by the Department of Economic and Social Affairs (ECOSOC) of the United Nations and hosted by the Government of India, which was celebrating its 75th anniversary as an independent country through its Ministry of Science and Technology.
At the official opening the Prime Minister of India, Hon. Narendra Modi, gave an interesting speech which was simultaneously broadcast via the national TV channels in whole India https://www.youtube.com/watch?v=_DFNgA7Rr4s.
TThe UNWGIC 2022 was attended by more than 1000 participants from India and all over the world and promoted comprehensive dialogue on global geospatial information management with all relevant governments, non-governmental organizations, academia, and the private sector engaging the younger and the under-represented with an overarching theme "Geo-Enabling the Global Village: No one should be left behind." The program included a high-level Opening Ceremony, Plenary Sessions, and a comprehensive schedule of parallel sessions related to the themes of the UNWGIC.
The 3-day-Conference Program (11-13 October) was surrounded by two days of side-events (10 and 14 October). Chair of FIG Commission 3 on Spatial Information Management, Hartmut Müller and FIG-President Rudolf Staiger organized a side-event with the title: "The Importance of Land Administration for the Implementation of the SDGs".
After the presentation of our Federation "10 things you should know about FIG" Rudolf spoke about "Why is Secure Land Tenure so important". Hartmut Müller followed with a presentation on the "Digital Transformation of Land Administration" which is the outcome of a recent study by FAO, UN and FIG presented in two publications; one in the FIG Publication series and a FAO Investment brief. Read more about the joint FAO, UN, FIG publications.
The session was very well attended. The participants showed great interest in the topic, and contributed to vital in-depth discussions. The congress provided an excellent platform to demonstrate FIG's expertise in land administration as a key discipline to achieve the Sustainable Development Goals.
The International Federation of Surveyors (FIG) was also present in the exhibition of UNWGIC. After the official opening session we had the honour to receive the Hon. Minister of Science and Technology, Government of India, Dr Jitendra Singh at our booth.
(from the left: Rudolf Staiger, Mr. Sanjay Kumar (Geospatialworld), Dr Jitendra Singh (Minister of Science and Technology, Government of India) and Ingrid van den Berghe (Co-Chair
| | |
| --- | --- |
| From left: Rudolf Staiger, Mr. Sanjay Kumar (Geospatial World), Dr Jitendra Singh (Minister of Science and Technology, Government of India) and Ingrid van den Berghe (Co-Chair of UN-GGIM) | FIG President Rudolf Staiger and Chair of Commission 3 Hartmut Müller met with FIG Honorary President Teo CheeHai |
| Representatives from Ghana were also attending UNWGIC | |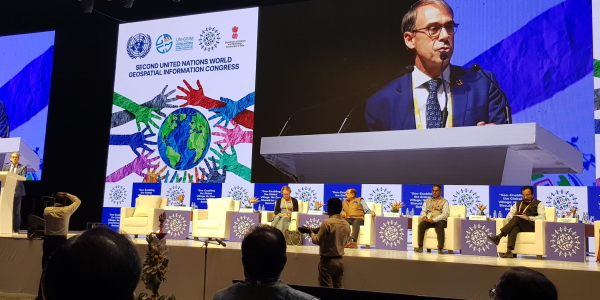 At the opening session
Rudolf Staiger/Louise Friis-Hansen
2 November 2022