News in 2023

Happy Global Surveyors' Day
21 March 2023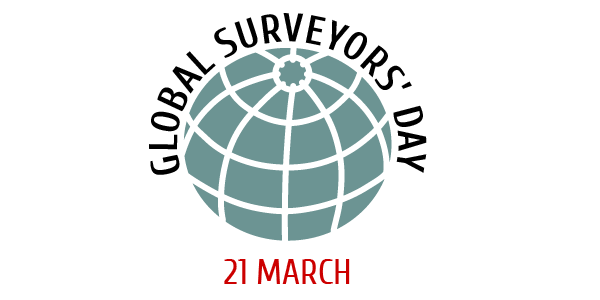 Global Surveyors' Day is a way to globally recognize the ground-breakers, pioneers, individuals and the industry that has shaped our history and continues to be the foundation of our communities.
How will you be celebrating the Global Surveyors' Day?
It is the hope that this day is being celebrated around the world. It can be celebrated in many different ways, and it is up to the national surveyors to find their best way to celebrate the day.
FIG wishes all the best for all these events and activities, hoping that this will help emphasise the many contributions by surveyors and the surveying profession in all aspects of life.
If you are celebrating this day or have organised activities for the promotion of the work of the surveyors in your country or region, we encourage you to submit and share your Global Surveyors Day activities at surveyorsday.com
and to upload photos to the FIG Facebook page:
https://www.facebook.com/internationalfederationofsurveyors
You can also send photos and a short description to FIG: fig@fig.net
---
INVITATION
Dear Colleagues, dear friends,
As every year since 2018, the 21 March will be celebrated as Global Surveyors' Day 2023.
This year, Fédération des Géomètres Francophones, in collaboration with the Council of European Geodetic Surveyors (CLGE) and FIG, is honoured to coordinate the celebration which will take the form of an hybrid event, organized in 2 sessions, the first one at 8:00 AM CET (for audiences in the Asia-Pacific, Europe, Eastern-Africa, Middle East and Near East regions) and the second one at 8:00 PM CET (for audiences in the Western Africa, Europe, South America, North America and the Caribbean regions).
The event will be organised from in the premises of the Conseil régional de l'Ordre des géomètres-experts de Paris (1 rue de Chazelles, 75017 Paris, France) in partnership with the two French surveying associations : the Ordre des géomètres experts (OGE) and the Association francophone de topographie (AFT) If you want to join us in Paris (limited number of places), please register without delay at f.lebourdais [at] geometre-expert.fr.
Certificates of attendance can be issued for both face-to-face and online modes. If you wish to provide such certificates (1.5 hours) to the participants of your respective organisations, please contact us in this sense at f.lebourdais [at] geometre-expert.fr.
We look forward to welcoming you on March 21, in Paris and online!
Marc Vanderschueren
Président de la FGF
---
Louise Friis-Hansen
March 2023