International Federation of Surveyors
Fédération Internationale des Géomètres
Internationale Vereinigung der Vermessungsingenieure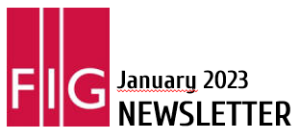 ---
Dear Colleague,
An exciting new term has started in FIG. The new President, Diane Dumashie, has taken over the leadership of FIG together with her new council and all Chairs. Currently Work Plans are being prepared, and both Council as well as the Commssions and Networks will have meetings during next week to prepare for this new term of office.
These new work plans will be presented at the FIG Working Week 2023, so do not miss the chance to be in Orlando, Florida for the Working Week and General Assembly 2023. You can still register with the early bird fee.
President Diane Dumashie has had a busy start of the year with visits to both Orlando for the preparations of the Working Wek 2023 and to bring together an exciting programme for the conference days, and also to Accra Ghana to meet with their large and engaged local organising committee. These trips caused that the opening of the Young Surveyor VCSP Wisdom Workshop in Sierra Leone had to be done online. A big thanks to the VCSP team who brought together this Wisdom Workshop and to all others who have contributed to the FIG activities.
---
FIG WORKING WEEK 2023 - REGISTER NOW AND GET THE EARLY BIRD FEE

Currently FIG and the local organisers are working on the final preparations for the FIG Working Week 2023. Many have already registered for the conference, and almost 450 abstracts have been submitted. All commission and network chairs, other FIG representatives as well as the local organisers from the US and Florida are now working on bringing together an exciting technical programme.
| | |
| --- | --- |
| The local organisers and FIG are looking forward to welcoming you to an extraordinary week of sessions, social, and sun! | FIG President Diane Dumashie, together with Director Louise Friis-Hansen visited Orlando, Florida at the end of January for discussions on the preparations that are already well underway. It was nice to see the venue again, and for Diane it was her first visit, as she has just taken over the presidency of FIG. The Working Week will take place in the conference centre that is located between the two hotels Signia by Hilton and Hilton Astoria. |
Having both accommodation and conference venue under the same roof is a great benefit to the conference participants. Please ensure your hotel room - there are not that many, and our local organisers have negotiated a really good fee for the stay of our participants. Please note that the rate includes the Disney Resort Fee that it otherwise always added to all rooms and represents a daily fee of USD 45.
If you have not yet registered, now is the time before the early bird rate closes. The location within the Disney compound is extraordinary and special and besides the technical programme there will also be technical tours specially designed for Working Week participants.
Register now
The overall theme of the Working Week is
Protecting Our World, Conquering New Frontiers
As the world emerges from the grips of a global pandemic and the renewed enthusiasm of in-person conferences, the focus of the geospatial professions is becoming clearer. Our world and the population residing on it needs our assistance in finding better ways of sustaining our environment. This vision for helping with making those changes are reflected in this year's theme for our Working Week and is strategically aligned with the United Nations Sustainable Development Goals (SDG) as adopted by the Member States in 2015.
Become a sponsor or exhibitor
| | |
| --- | --- |
| | This FIG Working Week 2023 will be held in the Americas for the first time in over 20 years. This will be your chance to showcase your company or organisation to both a large American and also to a truly international audience. |
| | NSPS Executive Director and member of the Conference Steering Committee, Tim Burch, was present at Intergeo 2022 in Essen Germany, and was interviewed for Intergeo TV. Watch the interview |
Register now
Many exciting experiences are awaiting you during the Working Week and at the destination.

Several pre-event options


Three conference days on 29-31 May with a packed techincal programme


Networking opportunities


Several special technical tours have been organised for attendees only.


The Working Week Dinner: American Evening will be a spectacular performance, the Disney's Hoop-Dee-Doo Musical Revue

Register now to ensure the favourable early-bird rate. After you have registered you will get the option to book you accommodation at the conference hotels at a favourable rate. You will help us by booking these rooms as the conference is dependent on filling up these rooms and the local organisers have done a great job in negotiating reasonable rates for the Disney area. There will be a special student rate.

Read more about the Working Week and what to expect, and register at www.fig.net/fig2023
Follow the Working Week preparations on FIG Social media:
---
NEWS FROM FIG

FIG and ICEC meeting

FIG President Diane Dumashie and Vice President Kwame Tenadu met with representatives from ICEC to re-vitalise the MoU between the two organisations
Read more
---
A large and dedicated Local Organising Committee for the Working Week 2024 consisting of representatives from the two national associations have already worked intensely on the preparations for the FIG Working Week 2024.
Read more
---
The workshop took place as the first edition of the "International Scientific Conferences of European Surveyors"
Read more
---
COMMISSION NEWS
Newsletters:
---
FIG FOUNDATION GRANTS
Current open grants:
Please check the requirements carefully before applying for a grant.
---
ARTICLE OF THE MONTH - January 2023
The Article of the Month in January 2023 is a recording of the FIG Congress 2022 Keynote: Urban Rural Partnership.
Urban Rural Partnership is more urgent than ever in the light of an ongoing or even increasing urban rural divide in developed as well as in developing countries. Central elements are the need for comprehensive land policies, reflecting a priority on spatial and economic integration, and the importance of considering governance, infrastructure and local capacity. Join our two distinguished keynote speakers through the urban rural land linkages. Read more and watch the video
---
JOBS
Check the vacancies and project opportunities:
Programme Management Officer, Arab Land Initiative UN-Habitat/GLTN
Interns at The Civil Society Unit, Department of Global Communications, UN
---
NEW PUBLICATIONS
Geometer Dreams
| | |
| --- | --- |
| | Peter Byrne has written a book about his forty years as a surveyor. Written as vignettes, the shortest being just one line, together with some longer essays and reflections, Geometer Dreams is about people, their interactions and the circumstances they met. The story settings range from the Pilbara district of Western Australia to the Blue Mountains of New South Wales, from Borneo through Zimbabwe to Brazil and the United Nations and includes also FIG material. Michael D. Breen has written a review of Geometer Dreams. Read the review and find more information about the book here |
---



These new publications examine the state-of-play and future directions for digital transformation in land administration in the United Nations Economic Commission for Europe (UNECE) region and beyond. Fig publication 80 - Digital transformation and land administration - Sustainable practices from the UNECE region and beyond and FAO Knowledge for Investment Brief: Funding Digital Transformation for Land Administration
Read more...
---



This new FIG Publication prepared by FIG Commission 8 aims to provide an overview of relevant topics for land consolidation practice.
Read more
---



New FIG Publication by FIG Commission 3 sheds light on several areas where geospatial data can be particularly useful in supporting the path to sustainability in the 2020s.
Read more
---
UPCOMING EVENTS
16-17 February 2023, Dhulikhel, Kavrepalanchowk, Nepal
International Workshop on Land Use Planning and land administration: integration and decentralisation supported by FIG Commission 7
Attendance by invitation only
28 May - 1 June, Orlando, Florida USA

FIG Working Week 2023
Web site: www.fig.net/fig2023

5-7 July 2023, TU Delft, Netherlands
CAAD Futures 2023 - INTERCONNECTIONS: Co-computing beyond boundaries
Abstract submission - deadline 17 June 2022
Web site: www.caadfutures2023.nl
---
Kind regards,
Ms. Louise Friis-Hansen
Director
International Federation of Surveyors
Fédération Internationale des Géomčtres
Internationale Vereiningung der Vermessungsingenieure
International Federation of Surveyors
Kalvebod Brygge 31-33
DK-1780 Copenhagen V
Tel. + 45 3886 1081
Direct: + 45 9391 0810
louise.friis-hansen@fig.net
www.fig.net
FIG Working Week 2025, Brisbane, Australia
FIG Congress 2026, Cape Town, South Africa
FIG Working Week 2028, Paris, France - CELEBRATING FIG 150 ANNIVERSARY
Subscribe monthly FIG Newsletter
---
FIG on Social Media:





If you have not already joined, join us today...
---
The monthly Newsletter is mailed to all members, commission delegates and all interested partners. FIG offers the Newsletter to all members of member associations and other interested in FIG. If you don't already get your copy you can order it now at: www.fig.net.

FIG Newsletter brings you latest information about FIG and its activities. The information referred here is in full length available on the FIG web site. Thus the Newsletter is produced to inform you what has happened recently and what interesting things are going to take place in the near future. The FIG Newsletter is circulated monthly or bi-monthly by e-mail. The referred articles are in English and written in a way that you are able to extract them to your national newsletters or circulate to your members and networks.

If you do not want to receive the newsletter in the future, please click here to unsubscribe from the mailing list
.
---