FIG Newsletter June/July 2023 - report from FIG Working Week 2023 and call for papers
please note:
If you cannot see the images or other content of the message properly, please
access the newsletter in your browser
International Federation of Surveyors
Fédération Internationale des Géomètres
Internationale Vereinigung der Vermessungsingenieure

FIG Newsletter – June/July 2023
---
Dear Colleague,
"Howdy" sounded the welcome greeting from the President of the National Society of Professional Surveyors, USA, Robert Akins, at the Opening Ceremony of the FIG Working Week 2023 in Orlando, Florida. And there was certainly something to look forward to. Many activities, many sessions, much learning, many new and old acquaintances, learning about American culture. A lot of positive and vibrant attendees, sponsors, exhibitors, partners, helpers, mixed with friendly and hospitable local organisers... At the General Assembly FIG President presented her Work Plan and visions for the coming four years. Read the report from the Working Week and the special report on the General Assembly to get updated on what is happening in and around FIG.
Although the Working Week 2023 took place recently, it is already time to look forward to and plan the upcoming FIG Working Week 2024 in Accra, Ghana. FInd here more information about the theme and call for papers.
Other activities have been going on, too. FIG President Diane Dumashie attended the ESRI User Conference, there are two upcoming commission events and through FIG you can attend Intergeo.
Read on - this newsletter is packed with information...

---
FIG WORKING WEEK 2023
The new work plans and visions for the coming terms were introduced at the General Assembly which also included introduction of new members, a new honorary president and honorary member.

Read the report
Read the full Minutes of the General Assembly incl all reports, videos and Work Plans
---
The national host NSPS welcomed participants from near and far to join in the many and varied activities of this years Working Week in Orlando, Florida. Thanks to all who joined and a special thanks to all sponsors and exhibitors.

Read the Working Week report
Photo album from the General Assembly and Working Week (onedrive folder)
Proceedings
FIG Young Surveyors Americas Meeting report
---
At the General Assembly 2023 FIG Member Associations elected Stavanger, Noway as destination for FIG Working Week 2027. Thanks to the two bidders from Nepal and Norway.

Read more
Thanks to all the Working Week Sponsors: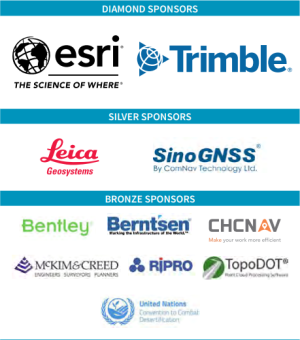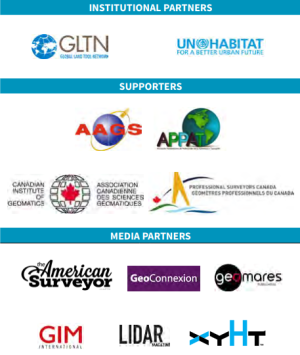 ---
FIG Working Week 2024 - Call for papers

Join us for the FIG Working Week 2024 in Accra Ghana. The FIG Working Week 2024 is organised in cooperation with the two national associations Licensed Surveyors Association of Ghana (LiSAG) and Ghana Institution of Surveyors (GhIS). Discover the beautiful country of Ghana, get a once-in-a-lifetime experience in Accra together with your colleages from all over the world.
With the overall theme of the Working Week:
Your World, Our World:
Resilient Environment and Sustainable Resource Management for all
we encourage you to submit your abstract and contribute to the global dialogue on building a sustainable future.
The 2030 Agenda for sustainable development adopted by all United Nation as Member States in 2015 provides a shared blue print, that at its heart has five key dimensions: people, planet, partnership, peace and prosperity. With less than ten years left to achieve the Sustainable Development Goals, world leaders have called for a decade of action and delivery for sustainable development, and pledged to achieve the Goals by the target date of 2030, leaving no one behind. FIG Working Week 2024 will build on the FIG vision to 'Serve society, benefitting people and the planet' will focus on tackling the global challenges as these specifically relate to the wellbeing of our Planet and natural resources.
Natural resource use relate to all three internationally accepted dimensions of sustainability, which are social justice, environmental health and economic development. Poorest countries suffer directly from an increasing polluted and degraded environment and the result of global politics on resource ownership, use and extraction.
Taking the lead from Agenda 2023 "We are determined to protect the planet from degradation, including through sustainable consumption and production, sustainably managing its natural resources and taking urgent action on climate change so that it can support the needs of the present and future generations. Sustainable development and climate action are inextricably linked and both are vital to achieving the SDG's.
Further, the importance of education, capacity building and above all the involvement of the youth will be a key feature of our diversity and inclusion of all. That geospatial technology and policies plays a key role in connectivity and sustainability which with adequate regulations and continuing innovation is becoming a major tool to ensure resilient environment and sustainable natural resource management.
We invite your engagement and submission of papers that provide insights for debate and action in topics that contribute to the advancement of a greener and more resilient world and encourage high quality contributions of researchers and practitioners in the following overall topics:

Land And Mineral Resources


Water, Oceans


Land Management and Governance incl. Urbanisation/RuralGeospatial


Technology and Ethics
Start already now to prepare your attendance in Accra by submitting your abstract.

Deadline for peer review abstract and full paper: 1 October 2023


Deadline for abstract for regular paper: 1 November (NB Full paper 8 January 2024)


Read the full call for papers


Call for papers in pdf
Follow the Working Week Preparations at: www.fig.net/fig2024
---
NEWS FROM FIG
As panelist in the National Geospatial Executive Forum President Dumashie gave a summary report of take-aways from the Executive Forum day.
Read more
---
The Workshop aimed to build synergy and a shared understanding attended by UN organisations, Governments, and not-for-profit organisations and was attended by FIG Ambassador Clarissa Augustinus.
Read more

---
Hosted by LINK (Land-International Network of Knowledge) at University of West England (UWE), Bristol, UK, 11-12 June 2023
Read more

---
Vice president Kwame Tenadu Snr attends the Romanian Geodesy Week and the General Assembly of the council of European Geodetic Surveyors (CLGE) in Oradea – Romania from the 10 – 13 May 2023
Read more

---
ARTICLE OF THE MONTH
July 2023
The article of the month in July 2023 is a recording from the FIG Working Week 2023: Clarissa Augustinus: Global Land Outlook and Protecting our World. In this introduction and recording that is offered to you in this "Video of the Month Series" Clarissa Augustinus outlines some of the key climate challenges facing our planet and the vital role that surveyors play in addressing the climate crisis.
Read the introduction and watch the video
June 2023
The article of the month in June 2023 is a recording of theFIG Congress 2022 Keynote: How the Land profession skills may thrive in the post 2020 pandemic world - Insights from across the Generations: Geography, Governance and Volunteering A panel of different generations with Victoria STANLEY, Marc VANDERSCHUEREN, Israel TAIWO, Shirley CHAPUNZA and Tomasz MALINOWSKI share their insights on how all four of the generations in the work place will shape the next normal.
Watch the video

---
SPECIAL EVENTS
FIG Commission 2 and 7 are inviting to their joint annual meeting 2-4 October 2023 at the Locatie Punt, Deventer (Overijssel), hosted by the Netherlands Cadastre, Land Registry and Mapping Agency (Kadaster) and ITC, University of Twente.
Read more about the event
---
FIG Commission 3 Workshop and Annual Meeting 4-6 December 2023, Tel-Aviv, Israel Held in conjunction with the international Ramon GeoInt360 conference. Special VIP early bird tickets available until 15 September (tick the FIG3 box when registering). Registration fee is waived for authors of accepted abstracts(one author per abstract)
Call for papers
---
Through FIG you can secure your free ticket to the large fair Intergeo that will take place 10-12 October 2023 in Berlin, Germany
Read more about the event
---
NEWSLETTERS AND REPORTS
Newsletters:
Reports:
---
UPCOMING EVENTS
Check the events page
20-23 August 2023, Hong Kong
Global Smart Cities Summit and 3rd International Conference on Urban Informatics (GSCSA & ICUI 2023) organised by Hong Kong organised by The Hong Kong Polytechnic Universityand International Society for Urban Informatics (ISUI)
Website: https://isocui.org/icui2023/index.html

27-29 September 2023, Neum, Bosnia and Herzegovina
5th Congress on Cadastre organised by Geodetic Society of Herceg-Bosnia
More information
2-4 October, Deventer The Netherlands
FIG Commission 2 and 7 Annual Meeting:
More information
8-10 November 2023, Gyeonggi Provice, Republic of Korea
Smart GEO Expo 2023, hosted by the Ministry of Land, Infrastructure, and Transport of the Republic of Korea with LX, Land and Geospatial Informatix Corporation as Secretariat and organizer and supported by LH, Korea Land and Housing Corporation.
Website:
8-10 November 2023, Kintex 2 Exhibition Center, Republic of Korea
FIG Young Surveyors Network Asia and the Pacific 4th Regional Meeting
Invitation: https://www.facebook.com/events/781184816844824/?ref=newsfeed
21-24 November 2023, Addis Ababa, Ethiopia
2023 conference on Land Policy in Africa - Protecting Sustainable Land Governance in Africa for Accelerated Implementation of the African Continental Free Trade Area organised by Africa Union, ECA, African Development Bank Group
Concept note
Call for papers
4-6 December 2023, Tel-Aviv, Israel
FIG Commission 3 Workshop and Annual meeting "Mitigation Strategies for the SDGs: Harnessing Spatial Information"; held in conjunction with the 2nd Ramon International Geospatial Intelligence 360 (GeoInt360) Conference
Website: http://geoint360.com
FIG Commission 3: We encourage you to use the VIP early bird tickets, available until 15 September at https://secure.eventmagix.com/2023_geoint360 (tick the FIG3 box when registering).
Call for papers
---
Kind regards,
Ms. Louise Friis-Hansen
Director
International Federation of Surveyors
Fédération Internationale des Géomčtres
Internationale Vereiningung der Vermessungsingenieure
International Federation of Surveyors
Kalvebod Brygge 31-33
DK-1780 Copenhagen V
Tel. + 45 3886 1081
Direct: + 45 9391 0810
louise.friis-hansen@fig.net
www.fig.net
FIG Congress 2026, Cape Town, South Africa
FIG Working Week 2027, Stavanger, Norway
FIG Working Week 2028, Paris, France - Celebrating FIG 150th Anniversary
Subscribe monthly FIG Newsletter
---
FIG on Social Media:





---
The monthly Newsletter is mailed to all members, commission delegates and all interested partners. FIG offers the Newsletter to all members of member associations and other interested in FIG. If you don't already get your copy you can order it now at: www.fig.net.

FIG Newsletter brings you latest information about FIG and its activities. The information referred here is in full length available on the FIG web site. Thus the Newsletter is produced to inform you about activities in FIG. The FIG Newsletter is circulated monthly or bi-monthly by e-mail. The referred articles are in English and written in a way that you are able to extract them to your national newsletters or circulate to your members and networks.

If you do not want to receive the newsletter in the future, please click here to unsubscribe from the mailing list
.
---