FIG Newsletter September 2023 - call for your action... nominations, new FIG Regional Network, FIG Working Week 2024 abstract submission and more
please note:
If you cannot see the images or other content of the message properly, please
access the newsletter in your browser
International Federation of Surveyors
Fédération Internationale des Géomètres
Internationale Vereinigung der Vermessungsingenieure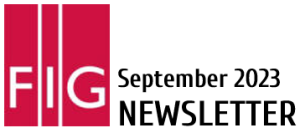 ---
Dear Colleague,
In this newsletter please find various calls for your action...
First, the call for nominations for two FIG Vice Presidents and 10 Commission Chairs Elects has been published. All member associations are encouraged to consider to nominate a candidate.
The deadline for submission of peer review paper for the FIG Working Week 2024 is just around the corner - 2 October. There is still time to submit abstract for regular papers with deadline on 1 November.
FIG Commission 2 on Education is encouraging you to participate in a survey on Academic Education in Land Surveying/Geomatics; the Habitat Professional Forum HPF (under UN-Habitat) of which FIG is a member is asking for your contribution on the Roadmap to Recovery; the First High-Level Forum Meeting of Presidents of Land Professional Associations in Africa is looking for partners and sponsors. Are you from West Africa - then check the job offer.
If you are located in the Americas region please read about the new FIG Network.
Several events are coming up - some in person and check the first two webinars organised by the FIG TClimate Compass Task Force.
Do we see you in Berlin at Intergeo? Come by the FIG stand.
Please read on and we are looking forward to your actions...
---
NEWS FROM FIG
FIG Council invites member associations to consider nominations for the honorary positions of two Vice Presidents for the term 2025-28 and Chairs Elects for the 10 Commissions 2024-26
Read more
---
The third FIG Regional Network covers the Americas region. At the General Assembly 2023 representatives from the region encouraged FIG Council to establish such network.
Read more
---
When Intergeo opens its doors on 10 October 2023 FIG will be ready to meet you. Come to our stand, or reserve a meeting. Secure your ticket through FIG.
Read more
---
FIG WORKING WEEK 2024
Last chance for peer review submission - Your sponsorship options

Join us for the FIG Working Week 2024 in Accra Ghana. The FIG Working Week 2024 is organised in cooperation with the two national associations Licensed Surveyors Association of Ghana (LiSAG) and Ghana Institution of Surveyors (GhIS). Discover the beautiful country of Ghana, get a once-in-a-lifetime experience in Accra together with your colleages from all over the world.
Call for papers - last chance for peer review submission
With the overall theme of the Working Week:
Your World, Our World:
Resilient Environment and Sustainable Resource Management for all
we encourage you to submit your abstract and contribute to the global dialogue on building a sustainable future.
With less than ten years left to achieve the Sustainable Development Goals, world leaders have called for a decade of action and delivery for sustainable development, and pledged to achieve the Goals by the target date of 2030, leaving no one behind. FIG Working Week 2024 will build on the FIG vision to 'Serve society, benefitting people and the planet' will focus on tackling the global challenges as these specifically relate to the wellbeing of our Planet and natural resources.

Deadline for peer review abstract and full paper: 2 October 2023 NB


Deadline for abstract for regular paper: 1 November (NB Full paper 8 January 2024)


Read the full call for papers


Call for papers in pdf


SUBMIT YOUR ABSTRACT
Make Your Mark - For Sponsors and Exhibitors
FIG Working Week 2024 is your platform for growth and connection. In Ghana, it's not just a conference; it's your strategic leap into a thriving future. Don't miss the opportunity to be a catalyst for change in this exciting market.

Secure your stand now and get extra visibility with a sponsorship 20% discount for FIG members.
Plan Your Trip
The Working Week will take place at La Palm Royal Beach Hotel. It overlooks the Atlantic Ocean and on the premises there are both conference facilities, accommodation, large green areas that will be used by the conference, taking advantage of the good Africa weather. There will be further accommodation options close to the venue. Stay updated on the conference web site on how to book your accommodation. This will open when registration opens, too which will be in October.
Follow the Working Week Preparations at: www.fig.net/fig2024
---
FURTHER FIG EVENTS
Digital Transformation for Responsible Land Administration
FIG Commission 2 and 7 are inviting to their joint annual meeting 2-4 October 2023 at the Locatie Punt, Deventer (Overijssel), hosted by the Netherlands Cadastre, Land Registry and Mapping Agency (Kadaster) and ITC, University of Twente.
Read more about the event
The 11th International FIG Workshop on the Land Administration Domain Model / 3D Land Administration takes place 11-13 October 2023 in Gävle, Sweden
Go to web site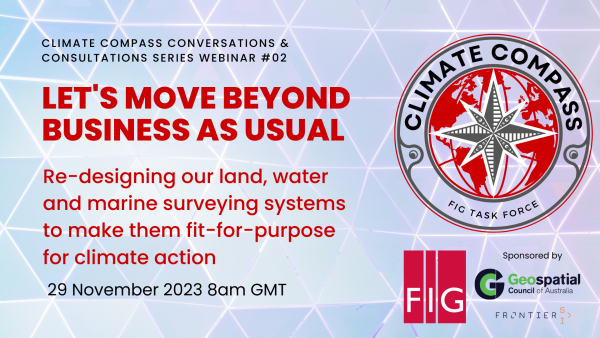 FIG Foundation with Young Surveyors Asia Pacific have selected 8 Young Surveyors to attend the 4th YS Meeting in Korea in November 2023. Congratulations!
Read more
Presidents and other relevant stakeholders engaged in geospatial information management in Africa are invited to this First High-Level Forum Meeting (HLFM) that will take place in conjunction with the Africa Union Meeting on 21-20 November 2023. Sponsorship possibilities are available.
More information
FIG Commission 3 Workshop and Annual Meeting 4-6 December 2023, Tel-Aviv, Israel Held in conjunction with the international Ramon GeoInt360 conference. Special VIP early bird tickets available until 15 September (tick the FIG3 box when registering). Registration fee is waived for authors of accepted abstracts(one author per abstract)
Call for papers
---
CALL FOR ACTION
Would you be interested to discuss the ways in which the power of our land, natural and bult environment professional community can be further harnessed in implementing the Roadmap.
Read more incl how you can contribute
Would you be interested to discuss the ways in which the power of our land, natural and bult environment professional community can be further harnessed in implementing the Roadmap.
Help us and fill in the survey
---
ARTICLE OF THE MONTH
The article of the month in September 2023 is a video of keynote speaker Russell Romanella, USA, at the FIG Working Week 2023. United States National Aeronautics and Space Administration Russell Romanella explores the current Human and Robotic Exploration Missions within NASA. He explores NASA's exploration of the solar system and beyond including Mars, Saturn, the asteroid belt, and NASA's plan to return to the Moon and on to Mars.
Watch the recording
---
WEST AFRICA REGIONAL SALES MANAGER
The Optron Group is currently seeking a highly motivated Regional Sales Manager to join their team. This position offers extensive travel and will be based in either Ivory Coast, Burkina Faso, or Senegal. Read more

The Civil Society Unit, Department of Global Communications,UN, is hiring full-time interns for 4-6 months in three (3) different work areas. Applicants must be a student in the final year of the first university degree (bachelor or equivalent), Master's or Ph.D. Programme or equivalent, or have completed a Bachelor's, Master's or PH.D. Programme. More information


---
UPCOMING EVENTS
Check the events page
2-4 October, Deventer The Netherlands
FIG Commission 2 and 7 Annual Meeting:
More information
10-12 October 2023, Berlin, Germanyy
Intergeo - Inspiration for a smarter world
Website: https://www.intergeo.de/en/
Register through FIG and get free access to the fair with the FIG voucher code: IG23-FIG
Register here
11 October 2023, online webinar
Climate Compass Comversations & Consultations series webinar #1: Let's move beyond business as usual, talking about climate resilience & fit-for-purpose surveying for land, water & marine.
Read more and registerr
11-13 October 2023, Gävle, Sweden
The 11th International FIG Workshop on the Land Administration Domain Model / 3D Land Administration
Web site: http://www.gdmc.nl/3DCadastres/workshop2023/
14 October 2023, Hong Kong
HKIS Land Surveying Division (LSD) Annual Conference 2023, "Connecting the City with Geospatial Intelligence"
Web site: https://www.hkis.org.hk/en/professional_cpd2.html?id=5878
8-10 November 2023, Gyeonggi Provice, Republic of Korea
Smart GEO Expo 2023, hosted by the Ministry of Land, Infrastructure, and Transport of the Republic of Korea with LX, Land and Geospatial Informatix Corporation as Secretariat and organizer and supported by LH, Korea Land and Housing Corporation.
Website:
8-10 November 2023, Kintex 2 Exhibition Center, Republic of Korea
FIG Young Surveyors Network Asia and the Pacific 4th Regional Meeting
Invitation: https://www.facebook.com/events/781184816844824/?ref=newsfeed
21-24 November 2023, Addis Ababa, Ethiopia
2023 conference on Land Policy in Africa - Protecting Sustainable Land Governance in Africa for Accelerated Implementation of the African Continental Free Trade Area organised by Africa Union, ECA, African Development Bank Group
Concept note
Call for papers
4-6 December 2023, Tel-Aviv, Israel
FIG Commission 3 Workshop and Annual meeting "Mitigation Strategies for the SDGs: Harnessing Spatial Information"; held in conjunction with the 2nd Ramon International Geospatial Intelligence 360 (GeoInt360) Conference
Website: http://geoint360.com
FIG Commission 3: We encourage you to use the VIP early bird tickets, available until 15 September at https://secure.eventmagix.com/2023_geoint360 (tick the FIG3 box when registering).
Call for papers
---
Kind regards,
Ms. Louise Friis-Hansen
Director
International Federation of Surveyors
Fédération Internationale des Géomčtres
Internationale Vereiningung der Vermessungsingenieure
International Federation of Surveyors
Kalvebod Brygge 31-33
DK-1780 Copenhagen V
Tel. + 45 3886 1081
Direct: + 45 9391 0810
louise.friis-hansen@fig.net
www.fig.net
FIG Congress 2026, Cape Town, South Africa
FIG Working Week 2027, Stavanger, Norway
FIG Working Week 2028, Paris, France - Celebrating FIG 150th Anniversary
Subscribe monthly FIG Newsletter
---
FIG on Social Media:





---
The monthly Newsletter is mailed to all members, commission delegates and all interested partners. FIG offers the Newsletter to all members of member associations and other interested in FIG. If you don't already get your copy you can order it now at: www.fig.net.

FIG Newsletter brings you latest information about FIG and its activities. The information referred here is in full length available on the FIG web site. Thus the Newsletter is produced to inform you about activities in FIG. The FIG Newsletter is circulated monthly or bi-monthly by e-mail. The referred articles are in English and written in a way that you are able to extract them to your national newsletters or circulate to your members and networks.

If you do not want to receive the newsletter in the future, please click here to unsubscribe from the mailing list
.
---