FIG Newsletter October 2023 - The beauty of meeting in person - submit an abstract if you want to take active part in FIG Working Week 2024. Please note:
If you cannot see the images or other content of the message properly, please
access the newsletter in your browser
International Federation of Surveyors
Fédération Internationale des Géomètres
Internationale Vereinigung der Vermessungsingenieure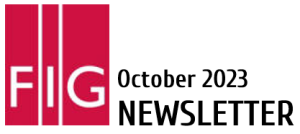 ---
Dear Colleague,
Being back at Intergeo meant a lot - the possibility to talk with members, representatives from the industry, people who had never heard about FIG before, old and new colleagues/friends, young surveyors, students, partners... There is something very special about meeting in person. The energy, the closeness, the easy communication, a good laugh and wonderful memories. This is the same kind of experience we are aiming at for the FIG Working Week 2024. It is so much different to be there in person and to get this first-hand experience.
If you have something on your mind, a good story to tell, new findings, good practice, you name it, then submit an abstract. Deadline is 1 November 2023.
In this newsletter you can read about other successful and fruitful in-person meetings, and read the interesting article that tells the story about how to make a difference by studying abroad and returning with a wealth of knowlege to pass on to others.
You can make a difference, too, e.g. by submitting an abstract and attending in Accra, Ghana. See you there...
---
FIG ANNOUNCEMENT
The call for nominations has been published. Are you in doubt - please contact one (or more) of the members of the Engagement Committee - they are here to help you.
Read more
---
---
FIG WORKING WEEK 2024 - AKWAABA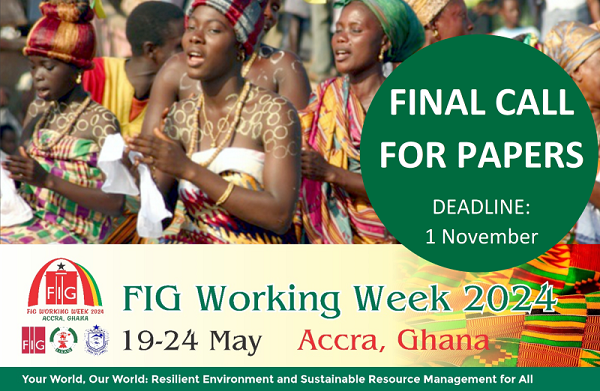 Conference: 20-22 May 2024
FIG General Assembly: 19 and 23 May 2024
Pre-events: 18-19 May 2024
ACCRA GHANA
Join us for the FIG Working Week 2024 in Accra Ghana. The FIG Working Week 2024 is organised in cooperation with the two national associations Licensed Surveyors Association of Ghana (LiSAG) and Ghana Institution of Surveyors (GhIS). Discover the beautiful country of Ghana, get a once-in-a-lifetime experience in Accra together with your colleages from all over the world.
Last chance to submit your abstract
The deadline for submission of abstract for the

FIG Working Week 2024

is quickly approaching.
We are delighted to invite you to submit an abstract and join the conference.
The countdown has begun so don't delay any further. Submit now to get involved in this fantastic opportunity!
Here are some exclusive benefits of being a part of the FIG Working Week 2024:

Cutting-Edge Insights: Immerse yourself in the forefront of geospatial technology and sustainable resource management. Gain insights that pave the way for impactful change in your field.

Global Network: Connect with like-minded professionals, experts, and decision-makers from around the world. Exchange ideas, experiences, and innovations that transcend borders.

Skills Enhancement: Elevate your expertise through hands-on workshops, interactive sessions, and thought-provoking discussions. Equip yourself with the tools to shape a sustainable future.

UN SDG Impact: Align your mission with the United Nations Sustainable Development Goals. Discover how your work directly contributes to a better world, amplifying your purpose.
---
---
The deadline is coming up soon:
1 November 2023 (full paper: 8 January 2024)

Read the full call for papers
Call for papers in .pdf
Important dates
Submit your abstract
For Sponsors and Exhibitors
FIG Working Week 2024 is your platform for growth and connection. In Ghana, it's not just a conference; it's your strategic leap into a thriving future. Don't miss the opportunity to be a catalyst for change in this exciting market.

Secure your stand now and get extra visibility with a sponsorship 20% discount for FIG members.
Plan Your Trip
The Working Week will take place at La Palm Royal Beach Hotel. It overlooks the Atlantic Ocean and on the premises there are both conference facilities, accommodation, large green areas that will be used by the conference, taking advantage of the good Africa weather. There will be further accommodation options close to the venue. Stay updated on the conference web site on how to book your accommodation.
Registration will open soon.
Follow the Working Week Preparations at: www.fig.net/fig2024
---
NEWS FROM FIG
The overall theme of the annual meeting was "Digital Transformation for Responsible Land Administration, and more than 100 participants found their way to Deventer in the Netherlands.
Read more
FIG President Diane Dumashie collaboration with UN-Habitat, GLTN over the period April to October 2023 and FIG members in Nairobi and London over the past six months.
Read more
Chair of Commission 5, Ryan Keenan, attended the 17th meeting of the International Committee for Global Navigation Satellite Systems.
Read more
FIG manned a busy stand and during the three days at the fair FIG representatives met with many vendors and surveyors
Read more
---
Would you be interested to discuss the ways in which the power of our land, natural and bult environment professional community can be further harnessed in implementing the Roadmap.
Help us and fill in the survey
More news at:
https://www.fig.net/news/index.asp
---
ARTICLE OF THE MONTH
The article of the month in October 2023 is a video recording from the FIG Working Week 2023 plenary session with keynote speaker Mickey Ng Nok Hang, Young Surveyors Network. Smarter Working in Digital Transformation "Fasten the seatbelts and get to new heights" says Mickey, presenting a perspective of the younger generation through a combination of technological innovation and new ways of thinking.
Read on and watch the recording
---
NEWS FROM MEMBERS



Picture of Uchendu Eugene Chigby by Technical University Munich, KontakTUM

Article: Alumnus from the Technical University Munich (TUM) Uchendu Eugene Chigbu was born in a rural town in Nigeria. Already as a teenager, he was concerned about how rural areas could be developed further and the lives of the local people improved. To learn more about this subject from an international luminary in this field, he went to TUM in Munich – and ended up staying for his master's, a doctorate and to be a postdoctoral researcher during a period of 13 years. Uchendu Eugene Chigbu quickly established an international reputation through his leadership in large-scale development projects. He now applies the knowledge he gained at TUM in Africa in his role as Professor of Land Administration at the Namibia University of Science and Technology
Read the full article in: English or German
---
WEST AFRICA REGIONAL SALES MANAGER
The Optron Group is currently seeking a highly motivated Regional Sales Manager to join their team. This position offers extensive travel and will be based in either Ivory Coast, Burkina Faso, or Senegal. Read more

The Civil Society Unit, Department of Global Communications,UN, is hiring full-time interns for 4-6 months in three (3) different work areas. Applicants must be a student in the final year of the first university degree (bachelor or equivalent), Master's or Ph.D. Programme or equivalent, or have completed a Bachelor's, Master's or PH.D. Programme. More information


---
FURTHER FIG EVENTS
Presidents and other relevant stakeholders engaged in geospatial information management in Africa are invited to this First High-Level Forum Meeting (HLFM) that will take place in conjunction with the Africa Union Meeting on 21-20 November 2023. Sponsorship possibilities are available.
More information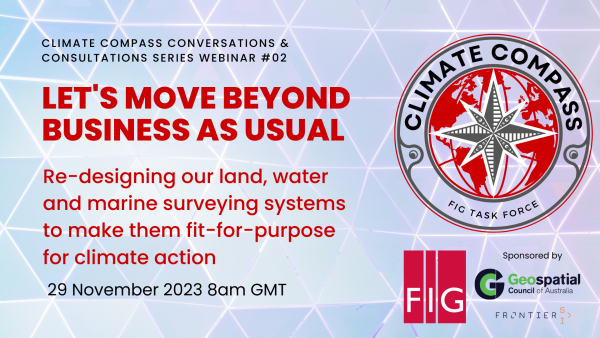 FIG Commission 3 Workshop and Annual Meeting 4-6 December 2023, Tel-Aviv, Israel Held in conjunction with the international Ramon GeoInt360 conference. Special VIP early bird tickets available until 15 September (tick the FIG3 box when registering). Registration fee is waived for authors of accepted abstracts(one author per abstract)
Call for papers&
---
UPCOMING EVENTS
Check the events page
8-10 November 2023, Gyeonggi Provice, Republic of Korea
Smart GEO Expo 2023, hosted by the Ministry of Land, Infrastructure, and Transport of the Republic of Korea with LX, Land and Geospatial Informatix Corporation as Secretariat and organizer and supported by LH, Korea Land and Housing Corporation.
Website:
8-10 November 2023, Kintex 2 Exhibition Center, Republic of Korea
FIG Young Surveyors Network Asia and the Pacific 4th Regional Meeting
Invitation: https://www.facebook.com/events/781184816844824/?ref=newsfeed
21-24 November 2023, Addis Ababa, Ethiopia
2023 conference on Land Policy in Africa - Protecting Sustainable Land Governance in Africa for Accelerated Implementation of the African Continental Free Trade Area organised by Africa Union, ECA, African Development Bank Group
Concept note
Ïncluding First High-Level Forum Meeting (HLFM) for Presidents of African Surveying Associations.
More information

4-6 December 2023, Tel-Aviv, Israel
FIG Commission 3 Workshop and Annual meeting "Mitigation Strategies for the SDGs: Harnessing Spatial Information"; held in conjunction with the 2nd Ramon International Geospatial Intelligence 360 (GeoInt360) Conference
Website: http://geoint360.com
FIG Commission 3: We encourage you to use the VIP early bird tickets, available until 15 September at https://secure.eventmagix.com/2023_geoint360 (tick the FIG3 box when registering).
Call for papers
---
Kind regards,
Ms. Louise Friis-Hansen
Director
International Federation of Surveyors
Fédération Internationale des Géomčtres
Internationale Vereiningung der Vermessungsingenieure
International Federation of Surveyors
Kalvebod Brygge 31-33
DK-1780 Copenhagen V
Tel. + 45 3886 1081
Direct: + 45 9391 0810
louise.friis-hansen@fig.net
www.fig.net
FIG Congress 2026, Cape Town, South Africa
FIG Working Week 2027, Stavanger, Norway
FIG Working Week 2028, Paris, France - Celebrating FIG 150th Anniversary
Subscribe monthly FIG Newsletter
---
FIG on Social Media:





---
The monthly Newsletter is mailed to all members, commission delegates and all interested partners. FIG offers the Newsletter to all members of member associations and other interested in FIG. If you don't already get your copy you can order it now at: www.fig.net.

FIG Newsletter brings you latest information about FIG and its activities. The information referred here is in full length available on the FIG web site. Thus the Newsletter is produced to inform you about activities in FIG. The FIG Newsletter is circulated monthly or bi-monthly by e-mail. The referred articles are in English and written in a way that you are able to extract them to your national newsletters or circulate to your members and networks.

If you do not want to receive the newsletter in the future, please click here to unsubscribe from the mailing list
.
---