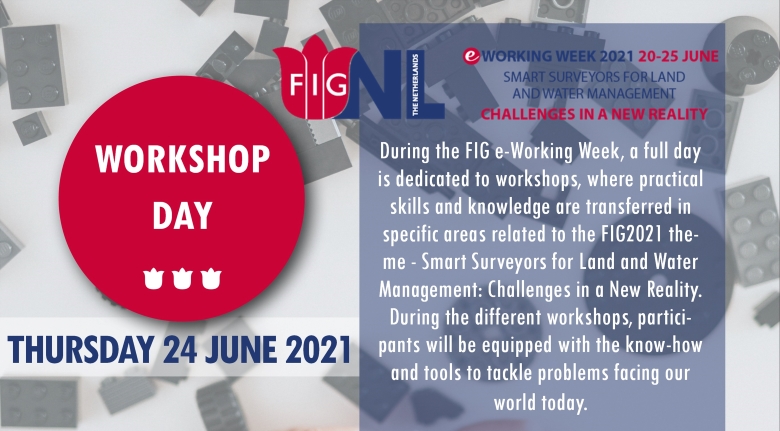 Don't miss the Workshop day - join one of the workshops:
Please note, your registration to the FIG e-Working Week also includes your participation in one or more of the workshops. Enjoy.
---
9th FIG Workshop on the Land Administration Domain Model / 3D Land Administration
The increasing complexity of densely built-up areas and infra-structures (3D Land Uses) requires the proper registration of the legal status of built environment (private and public), which only can be provided to a limited extent by the existing 2D representations. 3D representations of legal space can be seen in other steps of the spatial development: planning, design, permitting, constructing, enforcement, and so on. 3D data sharing and reuse are topics of growing importance. The information infrastructure is a tool to realize data sharing by networked connectivity and improved interoperability. Standards play a crucial role in the information infrastructure, and specifically the earlier mentioned LADM (ISO 19152:2012). This standard has been in use for eight years by now, and the ISO TC211 members decided that the standard is up for revision and should address land administration with a wider scope, such as valuation, spatial planning (planned land use), marine spaces and with more detailed 3D representations.
The workshop will focus on the latest innovations and developments in 3D Land Administration and on the developments related to the Land Administration Domain Model. The workshops aims to involve relevant FIG Commissions in the development of LADM Edition II. The decision to publish LADM Edition II as multipart had as a consequence that a New Working Items Proposal (NWIP) and a Working Draft (WD) have to be formulated for each Part. It is expected that this can be done with the cooperation of relevant commissions, the FIG Standards Network and external organisations. It means a real contribution, so work has to be done.
Development of contents and New Working Item proposals for:

Part 1 of LADM Edition 2: Fundamentals (This part is under development, the NWIP was submitted by Standards Australia)
Part 2 of LADM Edition 2: Land Registration (NWIP needs to be submitted by FIG, may be together with ELRA/CINDER)
Part 3 of LADM Edition 2: Marine Space (NWIP to be submitted by IHO, may be together with FIG)
Part 4 of LADM Edition 2: Valuation Information (FIG will be involved in NWIP submission)
Part 5 of LADM Edition 2: Spatial Plan Information (FIG will be involved in NWIP submission)
Part 6 of LADM Edition 2: Implementation (FIG and OGC could submit this one)

3D Surveys for 3D Land Administration. Better integration of 3D Land Administration in LADM and improved Survey functionality in LADM. We invite providers of survey instruments to introduce 3D Surveying, adjustment to existing 3D data – eg with Point Clouds and how to integrate this into 3D Land Administration.
Discussions on links to/ alignment between LADM, ILMS and IPMS, and OGC LandInfra.
08.00-09.30 CET

Session 1 - 3D LA, part I
Chair: Dr. Efi Dimopoulou, Greece

Yanitsa Yankova (Bulgaria):
3D Cadastral Model in Bulgaria (10896)

Clava Ginting (Indonesia):
3D Cadastre Implementation in Indonesia (10947)

Nor Ainn Alfatihah Zamzuri, Muhammad Imzan Hassan and Alias Abdul Rahman (Malaysia):
Developing 3D Marine Cadastre Data Model within Malaysian LADM Country Profile – Preliminary Result (10994)

Maria Gkeli, Chryssy Potsiou and Charalabos Ioannidis (Greece):
BIM data as Input to 3D Crowdsourced Cadastral Surveying - Potential and Perspectives (11069)

Mathew Warnest, Jon Davies, Isa Ali Abdulla and Naji Sabt (Bahrain):
Urban Development and Resilience in the Kingdom of Bahrain: A 3D-enabled National Geospatial Programme for a Sustainable Future (11179)

13.00-14.30 CET

Session 2 - LADM Standards Developments
Chair: Dr. David Martin, FIG Standards Network Chair, France


Sudarshan Karki, Sisi Zlatanova and Rod Thompson (Australia):
Literature Survey of LADM Research: 2009 - 2020 (11134)

Alattas Abdullah (Saudi Arabia), Agung Indrajit (Indonesia), Kalogianni Eftychia (Greece), Abdullah Kara (Turkey) and Peter Van Oosterom (NPeter Oukes (Netherlands):
The foundation of Edition II of the Land Administration Domain Model (11163)

Anthony Beck, Dave Stowe and Michael Hill (United Kingdom):
Generic Concepts to Support LADM Implementation Within Formal Land Registrars (11228)

James Kavanagh (United Kingdom) and Pedro Ortiz (Spain):
The Alignment of ILMS and LADM, Including a New Valuation Model (11231)

Alan Howie (United Kingdom):
Registers of Scotland's Journey Towards a Data Drive Land Register and its Alignment with LADM Standards (11232)


15.00-16.30 CET

Session 3 - LADM Implementations
Chair: Prof. Christiaan Lemmen, Netherlands

Andres Guarin, Daniel Casalprim, Leonardo Cardona and Oscar Zarama (Colombia):
Data Quality Control in the Process Massive Land Survey According to the LADM-COL (10982)

Brent Jones (USA):
Fit-for-Purpose Land Administration – LADM and SaaS Infrastructure (11033)

Katherine Smyth (USA):
Supporting Field to Formal Cadastre Workflows with Scalable LADM Implementation (11063)

Eftychia Kalogianni, Efi Dimopoulou (Greece), Erik Stubkjaer (Denmark), Hans Christoph Gruler (Switzerland) and Christiaan Lemmen and Peter Van Oosterom (Netherlands):
Developing the refined survey model for the LADM revision supporting interoperability with LandInfra (11182)

Jan van Bennekom-Minnema (Netherlands):
GeoDjango and LADM II: from Conceptual Model to Implementation (11227)


20.00-21.30 CET

Session 4 - 3D LA, part II
Chair: Prof. Peter van Oosterom, Netherlands

Derick Boateng Okyere, Chrit Lemmen (Netherlands) and Zaid Abubakari (Ghana):
Requirements for a LADM Country Profile for Ghana (11087)


Abdullah Alattas, Marianne de Vries (Netherlands), Sisi Zlatanova (Australia) and Peter van Oosterom (Netherlands):
3D pgRouting and visualization in Cesium JS using the integrated model of LADM and IndoorGML (11114)

Morten Dalum Madsen, Jesper Mayntz Paasch and Esben Munk Sørensen (Denmark):
Danish Urban and 3D Property Design (11145)

Dionysia - Georgia Perperidou, Georgios Moschopoulos, Konstantinos Sigizis (Greece) and Dimitrios Ampatzidis (Germany):
Greece's Laws on Properties and the Third Dimension: a Comparative Analysis (11186)

Nelson Yam (Hong Kong SAR, China), Calvin Kam and Min Song (USA):
Development of the BIM Data Repository of Lands Department (11202)

---
Surveying and BIM Classroom
Organised by Christian Clemen, Germany, HTW Dresden, DVW Germany
Scope of the Workshop:
Teaching theoretical background of the BIM method (concepts, workflows and standards)
Best practice presentations from large projects and SME (from surveyor's point of view)
Presentation of the latest software (surveying, integration and collaboration with BIM, CAD, GIS)
Audience:
International professionals from AEC-companies (engineering surveyors) and land administration agencies (land surveyors).
Young professionals interested in this new technology for own projects
Academics from different countries (just a few universities teach BIM until now)
Selected students and young professionals from the FIG Young Surveyors Network.
DRAFT PROGRAMME:
09:00-10:30 CET

Lecture "Basics on BIM for Surveyors" by Christian Clemen

BIM definition
BIM use cases (just a few)
What is BIM software?
Geometry and Topology in BIM
Georeferencing of BIM Models
Semantics in BIM
BIM and Engineering Surveying
BIM vs .GIS
Short overview on international Standards

11:00-12:30 CET

Mohsen Kalantari, Melbourne School of Engineering (Australia)
Key Notes: "Scan to BIM for 3D Cadastres"

Miika Kostamo and Petteri Palviainen (Finland):
10 Years of Development in Model-Based OpenBIM Workflow in Infrastructure Surveying in Finland from a Surveyor's Perspective. (10945)

Olorunfemi Emmanuel et al.
Competencies and the Penetration Status of Building Information Modellingt Environment Professionals in the Use Among Built Environment Professionalsof Building Information Modelling in Nigeria (11024)

Clemen Christian et al. (Germany):
Site Plan for BIM? – A Free and Open Source Plug-In for As-Is Vicinity Models to be Used in Small and Medium-Sized BIM-Projects

12:30-13:00 CET

Virtual Coffee and networking
---
Organised by FIG Commission 8 - Spatial planning and development
The workshop will discuss the current idea of a generic tool for land consolidation. The tool can be configured to meet the needs of local contexts regarding tenure system, legislation and process / procedures.
---
Blended Learning: lessons from our responses to COVID-19
Organised by FIG Commission 2 - Professional Education
This workshop aims to provide examples of good practice in responding to the constraints of COVID-19 and the rapid move to online and remote education, and discuss these. This will form a basis for workshopping what blended learning will look like for surveying education.
During 2020 all teaching and training institutions had to adapt very quickly so they could respond to the need for remote learning. During this transformation to online learning we saw may very innovative and inspiring approaches to online learning. However, we also found that online learning has very definite disadvantages. Some students really cannot cope well with online learning, and some learning activities need to be face-to-face. These experiences allow us to reflect on the good and bad aspects on transforming our education online. It is now generally accepted that online learning will be part of the future approaches to education, and that the challenge will be to find the best "blend" of online and face-to-face learning.
In this session we have examples of good practices in online education and the most innovative ways learning and teaching to online, and results of a student questionnaire on learning strategies and preferences. There will also be insights into how face-to-face learning can benefit from online content, and how online content can be blended with face-to-face activities. Using break out groups and a World Café approach we also aim to hear from participants about these innovative approaches and how they help us to develop an appropriate "blend" of online and face-to-face learning going forward. This session will help inform the final Commission 2 report on Blended Learning for Surveyors.
---
Workshop on e-Volunteering to Address Environmental Challenges - A Real-life Example with a Real-time Project
This workshop will give attendees the opportunity to learn from the VCSP and Geospatial Next (WG 3.6) as they present their paper. This presentation will include discussion on the potential for e-Volunteering to bring surveyors into the realm of high-value, high-impact change projects. Attendees will also have the chance to use an online mapping tool for themselves before embarking on a 24 hour e-Volunteering event together with other attendees.
Purpose:
To present on our joint paper, share knowledge from the running of the SSSI Firewater/E-Volunteering Event, provide hands-on experience, then lay down the foundation for an e-Volunteering event
Brief intro on workshop program by Claire Buxton

Presentation

Panel Q&A:
Stakeholders answer questions from attendees

Introduction on how to map and the project we have chosen
Tom

Self-prepare and Q&A

Take time to create an account and get prepared. Ask questions of moderators.

Hands on ('online') Everyone online still

Playlist and YouTube video interviews. Ask questions of moderators.

Mapping continues...