EXHIBITION
FIG is excited to invite you to the FIG Congress 2022 11-15 September in Warsaw, Poland – this time it will be a physical gathering with some online elements. At the FIG Congress 2022 we are dedicated to once again being able to gather scientists, experts, policy- and decision-makers, students, and stakeholders from all over the world to join professional discussions and last but not least have attendees wander the exhibition hall.
The international trade exhibition at FIG Congress 2022 offers you exposure to the many delegates of the conference and the opportunity to showcase your products and services to a global pool of customers.

The exhibition area has been designed to provide the best possible promotional opportunities to participating companies.
The exhibition will provide delegates and exhibitors with excellent opportunities to network and will be placed in the beautiful and spacious foyer of the DoubleTree by Hilton Hotel & Conference Centre Warsaw. Read more about the venue here.
Network, reconnect, inspire, and be inspired by your customers at FIG Congress 2022
Booth details:
Basic booth 2m x 2m (option to buy several booths to get more sqm).

Basic light and power system

1 standard table and 2 chairs

1 Dustbin

Walls and facia
Including:
Two complimentary exhibitor passes per booth. Exhibitor passes entitles:
Full access to the exhibition area but not the general programme.

Access to the Opening Ceremony and Welcome Reception.

Morning and afternoon refreshment.

Lunch
Additional exhibitor passes can be purchased for 150 EUR.
Price:
2,000 EUR for members of FIG

2,500 EUR for non-members
*The exhibition options are based on a physical conference being possible, but there is the uncertainty of the development of the COVID-19 pandemic and potentially being forced to transfer on to an online platform, which would make the exhibition online.
Exhibition Schedule
The exhibition will be held from 11-14 September 2022. The construction of the stands is possible from Saturday 10.09.2022, 8.00 p.m. The opening hours are listed here:
Exhibition opening hours

Exhibition open
Sunday
17:00-21:00
Exhibition open
Monday
11:00-18.00
Exhibition open
Tuesday
11:00-18.00
Exhibition open
Wednesday
11:00-18.00
Read the full prospectus for Exhibition and Sponsorships here
---
FLOORPLAN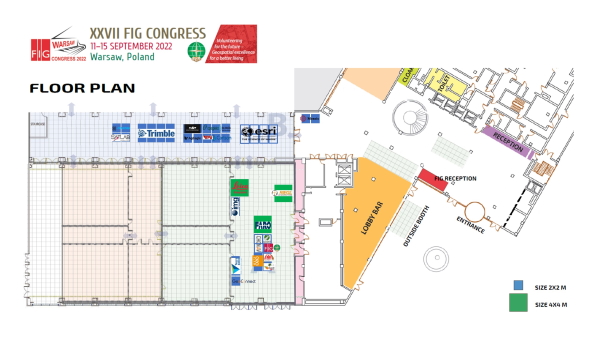 Click on the floorplan and see a bigger version.
---
RESERVATION
A reservation for a stand or a sponsorship can be made via this reservation form.
The terms and conditions are found in the reservation form.
Please send this reservation form to:
International Federation of Surveyors
Kalvebod Brygge 31-33 DK-1780 Copenhagen V
DENMARK
Via email: fig@fig.net
A reservation is not a booking and is subject to an availability check. You will get a confirmed booking of your reservation a.s.a.p.
Check the various sponsorship opportunities here.
For further details on the opportunities available please contact:
LOCAL ORGANIZING COMMITEE

Mr. Tomasz Malinowski
ul. Czackiego 3/5, p.416, 00-043 Warszawa, Poland
T: +48 602 113 481 E: tmalinowski@tpi.com.pl

International Federation of Surveyors, FIG

Ms. Louise Friis-Hansen
Kalvebod Brygge 31-33 DK-1780 Copenhagen V, Denmark
T: +45 93910810
E: lfh@fig.net