News in 2023

Preparing for the FIG Working Week 2023 in Orlando
26-27 January 2023, Orlando, Florida, Ghana
The local organisers from the US are looking very much forward to meeting and greeting participants to the city of Orlando both from the US, from Americas and from further abroad. The registration opened some time ago, and there has been a large interest and already many registrations.
The submission of abstracts ended at 15 January, and FIG has received almost 450 proposals. This means that the Commission Chairs, Network Chairs, other FIG representatives and also representatives from the local organisers are in full swing going through all abstracts and preparations for the design of an inspiring technical programme.
FIG President Diane Dumashie, together with Director Louise Friis-Hansen, paid a visit to the location of the Working Week to make the final arrangements and to meet with the local organisers as well as the suppliers that will ensure a successful conference. Here they met with Co-Conference Director John Hohol and with Tim Burch, who is both representing the national member association NSPS and is also Chair of FIG Commission 1 on Professional Practice.



The local organising committee met in Orlando with FIG President Diane Dumashie and Director Louise Friis-Hansen for the preparations

On 27 January there was a meeting with the dedicated local surveying representatives from Florida. At this meeting special activities were discussed and planned both for the opening ceremony, the welcome reception and other activities during the Working Week.

A technical programme is taking shape including exciting plenary sessions, special session, sessions with partners, sessions in Spanish and much more.

The Working Week will take place in the Disney area at the Hilton Signia by Hilton Orlando Bonnet Creek / Waldorf Astoria Orlando. The conference centre is placed between these two hotels and connect the two hotels.
The local organisers have managed to secure good accommodation rates for the Working Week attendees on the premises; at the Signia Hilton and at Waldorf Astoria. The accommodation rate in the area is normally much higher, and further to this, there will be no "surprises" in the fee - normally a Disney Resort fee in the size of $45 will be added per night - however in our fee this Resort Fee is already included.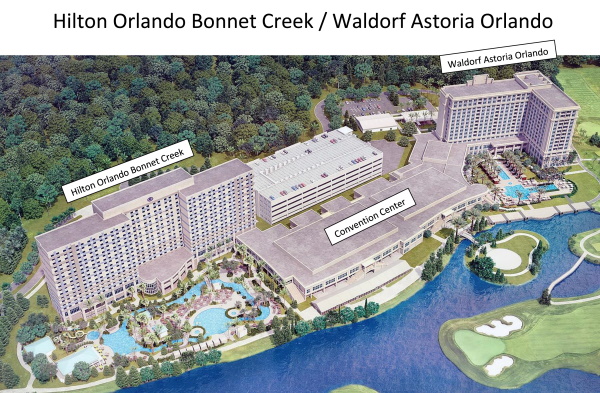 Special activities
| | |
| --- | --- |
| Do you play golf? Now is your opportunity to try out a new golf course on Friday 2 June | The local organisers have prepared various special activities alongside with the Working Week. Look forward to a specacular conference dinner that will take place on Wednesday 31 May. Please join the very American experience: the NSPS PAC Cornhole Event on Thursday 1 June and for those who might be interested in Golf there will be a 9-hole golf tournament on Friday 2 June. |

Read more about the FIG Working Week 2023

Register here

Do you want to showcase your company/product? See your possibilities
Louise Friis-Hansen
February 2023