WHY EXHIBIT
FIG Previous Conference Facts
FIG Working Week is organized every year except at congress years. Previous FIG Working Week have been held in:
Date

2012
2013
2014
2015
2016
Destination

Rome,
Italy

Abuja,
Nigeria
Kuala Lumpur,
Malaysia
Sofia,
Bulgaria
Christchurch,
New Zealand
Number of Attendees
1200
+2000
+2000
900
+800
Number of exhibitors
25
32
56
16
31
Number of technical sessions
100
34
109
70
64
Number of special sessions, workshops, forums & Meetings
26
31
62
32
41
Number of plenary presentations
9
9
12
9
9
Number of papers
465
150
446
302
310

Who attends?
The Working Week brings together surveyors and land professionals from all over the world and the organisers are expecting 700-900 participants. The participants will be from different cultural backgrounds, diverse surveying traditions, varying professional experiences and multi-professional disciplines: The Conference appeal not only to the Surveying profession, but also to the broader Spatial Science industry including cartographers, remote sensing and photogrammetric professionals, people involved with GIS systems and GNSS systems and anybody involved in location based services. Instrument manufacturers and software application specialists will also benefit by being involved in this major international event.
Area of Profession (%)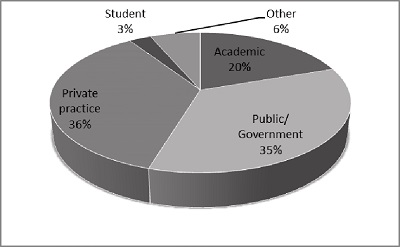 Source: FIG Working Week 2016, Christchurch, New Zealand
Attendees by Continent 2012-2016 (excluding host country) (%)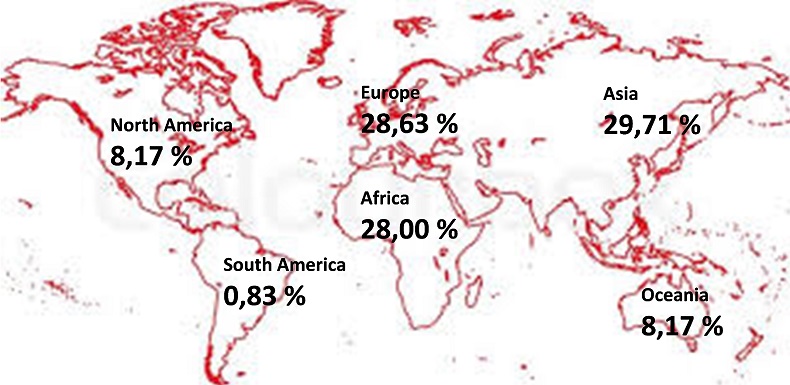 Top ten Countries Represented
FIG2012
Rome,
Italy
1200 Attendees
FIG2013
Abuja,
Nigeria
+2000 Attendees
FIG2014
Kuala Lumpur, Malaysia,
+2000 Attendees
FIG2015
Sofia,
Bulgaria
900 Attendees
FIG2016
Christchurch,
New Zealand
+800 Attendees

Italy (166)

Nigeria (1962)

Malaysia (772)

Nigeria (226)

New Zealand (259)

Nigeria (152)
China, People's Republic of (39)
Nigeria (243)
Bulgaria (68)
Australia (99)
Turkey (61)
Kenya (19)
Australia (81)
Turkey (65)
Nigeria (88)
China, People's Republic of (40)
Malaysia (16)
Singapore (71)
China, People's
Republic of (39)
China, People's Republic of (53)
Germany (36)
Congo, Democratic Republic of the (11)
China, People's Republic of (50)
Germany (33)
Indonesia (38)
Australia (32)
Netherlands (8)
United States (45)
Netherlands (19)
Malaysia (35)
Poland (26)
United States (7)
Indonesia (44)
Romania (19)
United States (29)
Malaysia (25)
Finland (7)
Turkey (40)
Malaysia (18)
Germany (26)
United States (24)
Denmark (7)
Germany (38)
Indonesia (15)
Korea, Republic of (19)
Netherlands (23)
Germany (5)
Kenya/Japan (28)
Ghana/France
/Greece (14)
Netherlands/
Finland (18)

Number of countries represented

88
49
93
67
66
What is FIG Working Week?
FIG Working Week is an exciting week-long conference that brings the international community of surveying and spatial professionals together to share innovative science with policymakers and stakeholders. Scientists, policy- and decision-makers, students, and stakeholders are invited to join the discussions on issues affecting the international surveying and spatial community today and in the future.
FIG has been organising Working Weeks since 1878. The first conference was held in Paris from 18-20 July.br /> This year's Working Week is the 79th. The FIG Working Week 2017 in Helsinki is hosted by International Federation of Surveyors (FIG), the Finnish Association of Geodetic and Land Surveyors (MIL) and the Finnish Association of Surveyors (MAKLI), and will be supported by the National Land Survey of Finland (NLS).
The FIG General Assembly, at its meeting held at the 2014 Congress in Kuala Lumpur, Malaysia, elected MIL and MAKLI to be the local hosts for the FIG Working Week 2017. The Finnish Associations are experienced professionals and great hosts as they have had the leadership of FIG and have successfully organized several memorable international events, FIG Commission workshops and the FIG Congress in 1990.
Working Weeks combine meetings of FIG's General Assembly and administrative bodies with a technical conference over three days with 8–10 parallel sessions, organised by FIG Council and the ten FIG Commissions together with the host member association (in this instance, MIL and MAKLI). Working Weeks offer the opportunity for commissions to implement their work plans and for FIG to network at a local, regional and international level.
Recent Working Weeks have been held in Rome, Italy (2012), Abuja, Nigeria (2013), Sofia, Bulgaria (2015). And Christchurch, New Zealand (2016). The FIG Working Week 2017 will be hosted in Helsinki, Finland at the Messukeskus Expo and Convention Centre.

Photo by Peter Laarakker at FIG Working Week 2013 in Abuja, Nigeria
It's not just exhibiting
It's about creating a lasting
impression
The FIG Working Week 2017 offers a dynamic opportunity to strengthen your organisation's exposure to your key target markets. The Working Week will bring together surveying and spatial professionals from across the globe thus providing direct access to diverse cross-section of highly sought industry stakeholders.
Sponsorship of the Working Week offers opportunities to:
Network and build relationships
Promote your products and services
Increase brand awareness and develop new markets
Share information at a global level
Gain exposure to international knowledge and professional development
A range of options are available to suit every marketing budget, from major sponsorships to advertising. To download a copy of the sponsorship and exhibition prospectus, please click on the below link.
Download Sponsorship and Exhibition Prospectus (PDF File)