EXHIBITION
A comprehensive exhibition will run concurrently with the FIG Working Week 2017 from 30 May to 1 June 2017.
The exhibition will provide a unique opportunity to promote your products, undertake research and promote services to surveying and spatial professionals from all over the world.
The exhibition takes place at the Messukeskus Expo and Convention Centre from 30 May – 1 June.
The international trade exhibition offers you exposure to FIG Working Week 2017 delegates and the opportunity to showcase your products and services. The exhibition area has been designed to provide the best possible promotional opportunities to participating organizations. The exhibition will provide delegates and exhibitors with excellent opportunities to network in a favourable environment that provides a central and energized meeting place for all participants. With morning/afternoon refreshment and lunch breaks being served in this area it will create an unparalleled opportunity to promote your products and services to the diverse delegate base.
Download Sponsorship and Exhibition Prospectus (PDF File, KB)
Exhibition space at this premier event will sell quickly. Organisations interested in booking an exhibition space are urged to contact the FIG Office as soon as possible to ensure a prime booth position.
BOOTH TYPE

6 sqm booth
9 sqm booth
Cost of booth
1800 EUR + VAT
2500 EUR + VAT
2 FREE exhibitor passes
Booth details:
White walls and fascia board
16A 3,6W power socket
Metal halide spotlights of fascia board
Carpet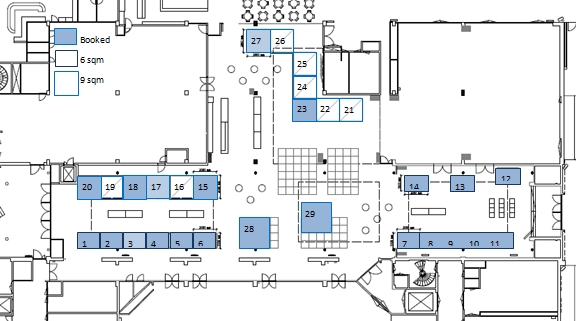 All companies exhibiting at FIG Working Week 2017 will receive:
Recognition as a trade exhibition participant (with company name) in the Programme Book
Company fascia signage
Company name, including a hyperlink to the company's website will feature on the List of Trade Exhibition participants which will appear on the Exhibition section of the FIG Working Week 2017 website
Two complimentary exhibition passes, including:

Access to the exhibition area
Morning and afternoon refreshment breaks
Lunch.
Additional exhibition passes are available for purchase at €150 + VAT per person and will provide the following:
Access to exhibition area
Morning and afternoon refreshment breaks
Lunch
Exhibitors will be provided with a link to an online registration form in order to apply for their complimentary and additional exhibitor staff passes.

For further details on the opportunities available please contact:
FIG Office
Kalvebod Brygge 31-33,
DK-1780 Copenhagen V,
DENMARK,
Tel.: + 45 3886 1081,
E-mail: FIG@fig.net
or Ms Claudia Stormoen Pedersen directly by email: claudia.stormoen@fig.net